New Zealand Receives First 20 Pinzgauers
Category: Defence Industry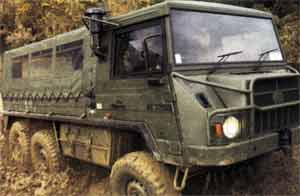 New Zealand's Army has received first 20 Pinzgauer 718 6x6 light tactical vehicles out of the total of 321 to be delivered.
The contract, which is worth $66.4 million, was awarded to the Land Rover company of Britain. The contract envisages delivery of vehicles in 13 versions, viz.: 122 command vehicles, 95 general purpose trucks, 68 armed transporters, 15 vehicles with armoured sides and 8 ambulances.
23 command vehicles and 37 transporters out of the above versions will be developed on the basis of a newly-developed armoured variant of the vehicle.
The Pinzgauer Model 718 cross-country vehicles were developed by the Steyr-Daimler-Puch company of Austria more than 30 years ago by request of the Swiss Army. In 1987, they were upgraded. In particular, they were fitted with a 104 hp diesel engine with a maximum torque of 195 Nm.
Sergyi Wey
15.02.2005


www.army-guide.com
Share...




Ricardo unveils new concept in life extension for Pinzgauer all-terrain vehicle fleets
20.06.2012
Navistar Finalizes U.K. Deal to Provide Afghan-Specific Tactical Support Vehicle
07.04.2009
Navistar Delivers MXT-Based Units for MRAP All Terrain Vehicle Testing
25.02.2009
U.K. MoD Selects Navistar for Mission Specific Tactical Support Vehicle
23.11.2008
Pinzgauer 716 MK (Patrol Vehicle)
Discuss