The Russian Army to Buy Infantry Fighting Vehicles
Category: Defence Industry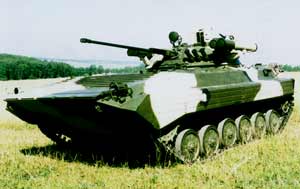 The Ministry of Defence of the Russian Federation intends to place a order with Kurganmashzavod for new infantry fighting vehicles.
It is envisaged that more than ten BMP-2s will be delivered in 2005. Besides, three BMP-3 will be purchased as an experiment. The vehicles of the kind are already in service with the Russian Army,as well as being purchased by a number of foreign customers who appreciated their capabilities. However, the BMP-3 procurement for the Russian Army has so far been restrained by the high cost of the vehicle (around $1,000,000).
Sergyi Wey
15.02.2005


www.army-guide.com
Share...




Discuss
Records 1 to 1 of 1
Post

Picot
13:56 30.06.2006


C'est comique que le pays si grand comme la Russie achete si peu de vehicules d'infanterie blindes.