BAE SYSTEMS Receives Follow-on Contract for New Swedish Artillery System
Category: Defence Industry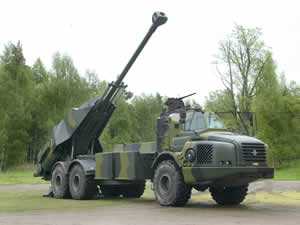 BAE Systems received a SEK 100 million contract from the Swedish Defence Materiel Administration for the next phase of the Archer program. The contract includes the next step in the development of the gun system and the product definition phase on ammunition supply vehicle and modular charges.
Archer is a self-propelled 155 mm artillery gun system based on a commercial off-the-shelf chassis - originally made for construction equipment - that is both easy and economical to maintain.
The three-man crew - normally six to ten - operates all activities through computers in the splinter-proof cabin. Each gun carries shells required to perform its mission. An Archer gun provides the same lethality as four to six traditional guns.
BAE Systems previously delivered two demonstrator guns that are now undergoing extensive troop trials and tests by the Swedish Armed Forces. The company will complete final development and begin production of two battalions (24 guns) with initial deliveries starting in 2009 and continuing for two years.
About BAE Systems:
BAE Systems is a global defense and aerospace company, delivering a full range of products and services for air, land, and naval forces, as well as advanced electronics, information technology solutions, and customer support services. BAE Systems, with 88,000 employees worldwide, had 2005 sales that exceeded $22 billion, excluding the group's former interest in Airbus.
Sergyi Way
09.02.2007


www.army-guide.com
Share...




BAE Systems` CV90 increases lethality by testing SPIKE LR anti-tank guided missile
14.01.2020
U.S. Marine Corps orders more Amphibious Combat Vehicles
11.11.2019
RAVEN Countermeasure System protects vehicles from missile threats
15.10.2019
BAE Systems unveils Robotic Technology Demonstrator Vehicle at AUSA
15.10.2019
BAE Systems Land Systems Hagglunds AB
BAE SYSTEMS Advanced Technology Centre
BAE SYSTEMS Customer Solutions & Support Land & Sea
BAE SYSTEMS Operational Training
BAE SYSTEMS RO Defence Small Arms Ammunition Division
BAE Systems North America, Land & Information Systems
Archer (Self-propelled howitzer)
Discuss