Oshkosh Truck Signs Contract To Provide Medium Tactical Trucks To Egyptian Ministry of Defense
Category: Contracts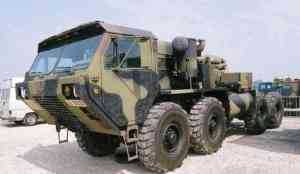 Oshkosh Truck Corporation announced that the company has been awarded a contract by the Egyptian Ministry of Defense to provide specially designed military trucks for its logistics and transport requirements.
The contract is valued at $4.9 million and is the first major international order for this model.
The contract covers 30 Medium Tactical Trucks (MTT), which were specifically designed by Oshkosh Truck for international military applications. The MTT uses components and technology found throughout the company's current military and commercial vehicle models. As a result, the vehicle is extremely capable, reliable and easy to maintain, yet value priced. In addition, the vehicle has been designed to be partially assembled in kits in the United States and shipped anywhere in the world for final assembly.
The MTT joins other Oshkosh Truck vehicles already in service with the Egyptian Army. The U.S. Army's M1070 HET tractor with 635 NL trailer and M977 HEMTT 8X8 logistics vehicle are both in service with the military in Egypt. The first Oshkosh(R) military vehicles went into service in Egypt in 1990 and have been fully supported by Oshkosh since that time.
Current plans call for the initial delivery of four vehicles to come fully assembled directly from Oshkosh. Follow-on trucks will be assembled at the Egyptian Tank Plant in Cairo. Oshkosh Truck will be providing the 4X4 and 6X6 MTT cargo body variants to Egypt. Other available variants include the MTT tractor, MTT Load Handling System and MTT Tanker models.
Sergyi Way
16.02.2007


www.army-guide.com
Share...




AxleTech International Renews Long Term Remanufacturing Agreement with Oshkosh Truck for Planetary Axles on HET / PLS Vehicles
01.02.2008
Northrop Grumman and Oshkosh Truck Corporation Join Forces to Pursue Joint Light Tactical Vehicle Program
10.01.2008
Oshkosh Truck to Build MRAP II Test Vehicles under New Contract Award
21.12.2007
Oshkosh Truck Subsidiary, Pierce Manufacturing, Awarded Contract to Build Water Tenders for U.S. Army
16.08.2007
Discuss