BAE Systems Receives Additional $16 M Contract for Bradley Remanufacture
Category: Contracts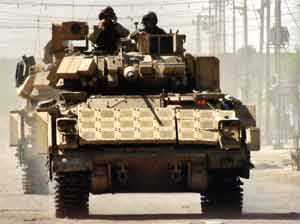 BAE Systems has received a $16 million contract from the U.S. Army TACOM Life Cycle Management Command for the remanufacture and upgrade of eight Bradley Combat Systems vehicles to the most advanced Bradley configuration.
BAE Systems, working through its Public Private Partnership with Red River Army Depot (RRAD), will remanufacture and upgrade the vehicles to the A3 standard. Initial disassembly and subsystem rebuild will be performed at RRAD, final disassembly and structural modifications will be completed by BAE Systems in Fayette County, Pennsylvania, and final assembly, integration and test will be conducted at the company's facility in York, Pennsylvania. The vehicles will be delivered by May 31, 2009.
Upgrading these Bradley Vehicles with the latest technologies will further enable soldiers to fulfill their mission roles, and provide them with enhanced lethality and survivability.
Bradley Combat Systems continue to provide outstanding survivability, mobility and lethality to U.S. soldiers in all types of close-combat urban scenarios and in open-combat, open-terrain scenarios over three completed rotations. The Bradley fulfills five critical mission roles - infantry fighting vehicle, cavalry fighting vehicle, fire support vehicle, battle command vehicle and engineer squad vehicle - for the Army's Heavy Brigade Combat Teams (HBCTs).
The Bradley A3 incorporates the latest enhancements to improve the vehicle's lethality and survivability, including a full fire control solution featuring a hunter / killer configuration with second generation sights. Additionally, the A3 features integrated information technologies with enhanced command and control features, such as color maps and displays, high-density computer memory, increased micro-processing speed and networked communications. The command and control functions are supported by a more accurate navigation and position locating system. All of these features are implemented with a digital architecture and software, which allows modularity and flexibility to support all of the Bradley mission roles in the HBCTs.
Including a $1.16 billion contract for the remanufacture and upgrade of 610 Bradley Combat Systems from the U.S. Army awarded in November 2006, and an additional set of contracts in January worth $412 million, the total value of contracts awarded to BAE Systems for Bradley work is approximately $3.5 billion for Fiscal Years 2005 - 2007. About 620 Bradley A3 vehicles have been delivered against the Army's requirement for more than 2,000 total Bradley A3s planned for the fleet.
Sergyi Way
23.02.2007


www.army-guide.com
Share...




BAE Systems` CV90 increases lethality by testing SPIKE LR anti-tank guided missile
14.01.2020
U.S. Marine Corps orders more Amphibious Combat Vehicles
11.11.2019
RAVEN Countermeasure System protects vehicles from missile threats
15.10.2019
BAE Systems unveils Robotic Technology Demonstrator Vehicle at AUSA
15.10.2019
BAE Systems Land Systems Hagglunds AB
US Army Tank-automative & Armaments Command (TACOM)
BAE SYSTEMS Advanced Technology Centre
BAE SYSTEMS Customer Solutions & Support Land & Sea
BAE SYSTEMS Operational Training
BAE SYSTEMS RO Defence Small Arms Ammunition Division
BAE Systems North America, Land & Information Systems
Bradley M2A3/M3A3 (Infantry fighting vehicle)
Bradley M2A3 (Modernization of the vehicle)
Bradley M2A3 IBAS (Modernization of the vehicle)
Discuss