U.S. Army to Field Thales' AN/PRC-148 Joint Tactical Radio System Handheld Radio
Category: Defence Industry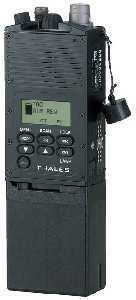 Thales Communications, Inc., announced that the U.S. Army has ordered more than 5,000 units of its AN/PRC-148 Joint Tactical Radio System (JTRS) Enhanced Multiband Inter/Intra Team Radios (MBITR), or JEM.
The AN/PRC-148 JEMs will be acquired through a contract with the U.S. Army Research, Development, and Engineering Command, Aberdeen Proving Ground, Md. This procurement will allow the Army to complete fielding against Modular Force requirements. Fielding is being managed by PEOSoldier (PM-Soldier Warrior) in accordance with guidance provided by Headquarters - Department of the Army.
The AN/PRC-148 is a rugged, lightweight, multiband handheld radio weighing less than two pounds. It operates in the 30-512 MHz frequency range and provides inter/intra team communications ground-to-ground, ground-to-air, and over satellite. The JEM configuration, which is an evolution of the battle-proven MBITR, affords improved security, is capable of hosting future waveforms, and offers access to higher data throughput and networking capabilities.
With the AN/PRC-148 JEM, Army warfighters will receive the same level of reliable performance they have trusted for years with Thales' AN/PRC-148 MBITR. The JEM's user interface and operation are consistent with the MBITR; thus, additional training is minimized, and the equipment can be fielded immediately. The JEM also enables the Army to be consistent with the National Security Agency's crypto modernization program, getting away from hardwarebased equipment and moving forward with a true software-defined radio.
The AN/PRC-148 JEM was the first JTRS-compatible radio certified for compliance with Software Communications Architecture1 and successfully completed an unprecedented level of U.S. Government testing and qualification. The radio leverages a proven platform and provides a JTRS solution that bridges the gap between legacy equipment and future JTRS technologies.
Sergyi Way
28.02.2007


www.army-guide.com
Share...




TEMPORARY COMPANY GROUPING EBMR MEETS ITS DELIVERY OBJECTIVES FOR 2019
14.01.2020
Rheinmetall Presents Next Gen "Wiesel Wingman" solution for Robotic Combat Vehicle – Light at AUSA 2019
04.11.2019
THALES AUSTRALIA AND GENERAL DYNAMICS ORDNANCE AND TACTICAL SYSTEMS DELIVERING FOR THE ADF
12.06.2019
FN Herstal Enhances Self-Protection Capabilities of deFNder RWS with ANTARES Situational Awareness System
11.06.2018
Thales Raytheon Systems France
Thales Optronics (Taunton) Ltd
Thales Training & Simulation (USA)
Discuss