BAE Systems Unveils Future Mortar Firing Platform
Category: Future Technologies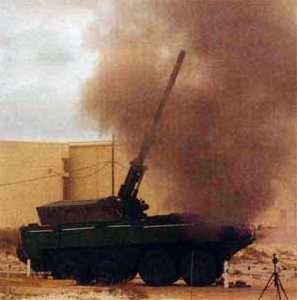 BAE Systems, the Future Combat Systems Lead Systems Integrator (LSI) team of Boeing and partner Science Applications International Corporation (SAIC), and the U.S. Army unveiled the first Future Combat Systems (FCS) Non-Line-of-Sight (NLOS) Mortar Firing Platform.
The NLOS Mortar is being designed by BAE Systems to transform the traditional role of the mortar on the battlefield by providing greater crew survivability and enhanced fire support for infantry forces.
The NLOS Mortar is one of eight manned ground vehicles being designed and built as part of FCS - the Army's premier modernization program comprising a networked, fully integrated family of manned ground vehicles, unmanned ground and air vehicles, and sensors.
Lessons from Operation Iraqi Freedom demonstrated the value of responsive mortar fire and the need to enhance the safety of mortar crews. The advanced armament and survivability equipment being designed into the NLOS Mortar will give mortar crews unprecedented protection from enemy fire and enable soldiers to deliver critical fire support to troops on the frontlines faster and more accurately than ever before.
The NLOS Mortar Firing Platform, which features an automated, single-tube, 120-mm smoothbore turreted mortar mounted on a test stand, was developed by a team of 75 engineers at BAE Systems' System Integration Facility in Minneapolis. The milestone comes only six months after BAE Systems engineers successfully delivered the NLOS Cannon Firing Platform in September 2006. The NLOS Mortar Firing Platform is being delivered to Camp Ripley, Minnesota, where it will undergo test firing to confirm the reliability of its advanced armament technologies, such as automated ammunition storage and handling, breech-loading, in-bore air regulation system (IBARS) and automated mortar cooling system (AMCS) subsystems.
Engineers designed the NLOS Mortar to be breech loaded because the process allows the crew to fire the weapon under the protection of the vehicle's armor, rather than having an open firing platform as is common on today's self-propelled mortar platforms. BAE Systems engineers also incorporated the patent-pending IBARS technology, which allows soldiers to fire mortars at low angles to increase effectiveness and flexibility. It also provides a safe method for extracting misfired rounds without endangering the crew. The AMCS keeps the mortar tube cool to enable high rates of fire for long durations. It also ensures the tube is clean at all times to reduce soldier work load and increase system responsiveness.
Sergyi Way
05.03.2007


www.army-guide.com
Share...




SAIC-led Industry Team Continues to Pursue Ground Combat Vehicle Program
24.01.2011
US Army issues RFP for Ground Combat Vehicle
02.12.2010
GCV Must Be Safe, Affordable, Full-Spectrum Capable
06.10.2010
US Army Cancels Non-Line-of-Sight Launch System
14.05.2010
ΥΜ1203 NLOS-C (Self-propelled howitzer)
XM1204 NLOS-M (Self-propelled mortar)
Discuss