Zimbabwe Buys Weapons from China in Contravention of the Sanctions
Category: Defence Industry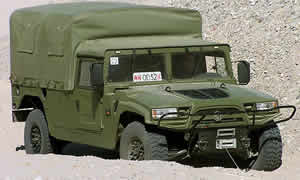 The government of the Republic of Zimbabwe received a new batch of weapons from China. Under the conditions of the weapons supply embargo imposed on Zimbabwe in 2000 by the European Union because of human rights violations, the government headed by Robert Mugabe continuous to develop clandestine military trade relations with China and other Asian countries, informs Zim Online (www.zwnews.com).
The new batch of weapons includes automatic rifles, transportation vehicles and expendable materials. The weapons were secretly delivered to Zimbabwe through the port of Beira in Mozambique.
According to some officers of Zimbabwe's Army, who preferred not to mention their names, the government of Zimbabwe is to receive more than 100 EQ2050 series armoured cars. The supplies of weapons are carried out on the threshold of the general parliamentary elections that are to take place on the 31st of March.
The EQ2050 armoured cars are produced by the corporation DongFeng Motor Corporation (DFM) of China. These vehicles are a modified Chinese version of the American M998 (HMMWV) vehicle.
According to the officers, President Mugabe does not want to take risk and intends to equip the Army with the Dongfeng armoured cars before the elections take place.
The high-ranking officers of Zimbabwe's Army repeatedly said that they would not allow anybody who had not taken part in the liberation war of the 1970s, to come to power. This applies directly to the politician Morgan Tswangirai, who is not a veteran of 'chimurenga' (liberation war).
In 1965-1980, there was a civil war in the Republic of Rhodesia between the government formed by the white minority and the nationalist leaders of the black aborigines. The war ended in a victory of the guerilla troops. The war was called 'chimurenga' – war for liberation. The head of the ZANU party Robert Mugabe won in 1980 the general elections and became Prime Minister of the new state – Zimbabwe.
After the armed forces of Zimbabwe took part in the war in Congo in the 1990s, most of the weapons had to be replaced. Due to the fact, that during the liberation war the ZANU faction was supported by the Chinese government, it is with China that Zimbabwe's government came to an agreement about new supplies of weapons in 2005. In so doing, the government officials refuse to give any comments as to the deal, sometimes even denying that the supplies have taken place.
The total amount of the deal is estimated at 7 billion Zimbabwe dollars.
The opposition in Zimbabwe expressed their protest based on the apprehension that the re-equipped army would be used for suppressing civil unrest, as it already took place in the mid-1980s.
Sergyi Wey
05.03.2005


www.army-guide.com
Share...




BAE Systems Receives U.S. Army Contract For M326 120-MM Mortar Stowage System
11.10.2007
DongFeng Motor Corporation - DFM
Discuss