Ceradyne's Lightweight Armor Selected by U.S. Army for Advanced Evaluation
Category: Defence Industry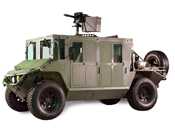 Ceradyne, Inc. has been notified by the U.S. Army Tank-Automotive Command (TACOM) that Ceradyne's alternate lightweight armor materials -- submitted in response to the Army's Long Term Armor Strategy (LTAS) requirements for advanced armor solutions for application on the tactical wheel vehicle fleet -- have been accepted for formal evaluation by TACOM's LTAS team.
It is the culmination of an 18-month run-up of development, testing and data collection necessary to meet the Army's stringent performance requirements and start a process that will clearly demonstrate that Ceradyne's advanced armor materials can perform on a par with metal armor solutions, and at a significant savings in weight. Following what is expected to be the successful conclusion of a comprehensive test and evaluation program, Ceradyne's advanced armoring materials will be made available to OEM truck manufacturers on a pre-approved basis whereby they can be incorporated into existing production and future vehicle cab designs.
Success with the ongoing LTAS evaluations will support other requirements for advanced armor materials for other programs, including the Joint Light Tactical Vehicle (JLTV), which will also incorporate an "A" and "B" Kit armor application design philosophy much like the current requirements of LTAS.
Ceradyne develops, manufactures and markets advanced technical ceramic products and components for defense, industrial, automotive/diesel and commercial applications.
Ceradyne has developed a new vehicle armoring system that encompasses the latest protective products for tactical wheel and logistical support vehicles. The system is ultimately flexible and responsive to local threat requirements allowing fast and effective adjustments to armor protection levels and consequent survivability.
Ceradyne Vehicle Armor Systems meet or exceed the threat protection level requirements specified in the US Army's Long Term Armor Strategy (LTAS).
Sergyi Way
18.06.2007


www.army-guide.com
Share...




WFEL extends US Army contract with £30m upgrade deal
21.07.2016
Alcoa Awarded up to $50 M from US Army to Advance Combat Vehicles
04.03.2016
GD Awarded $100 M for Abrams Tank Production
24.12.2014
Unmanned Vehicle Demo Showcases Leap-Ahead Technology
25.03.2014
US Army Tank-automative & Armaments Command (TACOM)
Discuss