Thales' JTRS Handheld Radio Selected for U.S. Military Service
Category: Defence Industry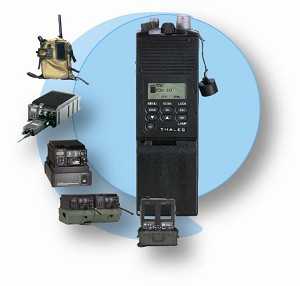 Thales Communications, Inc., has been awarded a firm, fixed price, indefinite-delivery/indefinite-quantity (IDIQ) contract to provide its AN/PRC-148 Joint Tactical Radio System (JTRS) Enhanced Multiband Inter/Intra Team Radio, or JEM, system to all services of the U.S. Military.
The consolidated, interim, single-channel, handheld radio (CISCHR) award was the result of a competitive procurement. The JTRS Joint Program Executive Office (JPEO), through the Space and Naval Warfare Systems Command (SPAWAR) procurement authority, has consolidated handheld radio purchases for the U.S. Department of Defense, significantly reducing unit costs and allowing all participating agencies to purchase JTRS equipment. Under this IDIQ contract, Thales will compete for future awards of formal delivery orders, which will ultimately determine contract value. CISCHR has a one-year contract period with four additional one-year options.
Designed, developed, and manufactured under a U.S. Department of Defense program of record, Thales' AN/PRC-148 JEM has been tested, evaluated, and validated by the U.S. Government. The JEM's powerful Software Communications Architecture is capable of hosting future waveforms, making it both an interim and long-term solution in the battlefield. Further, the JEM supports cryptographic modernization, enabling secure communications through a future-proof, software-based approach. An evolution of the AN/PRC-148 Multiband Inter/Intra Team Radio, or MBITR, the JEM leverages the proven platform that has been serving American warfighters for years in Afghanistan, Iraq, and other areas throughout the world.
As part of this contract, Thales will also be supplying its dual radio AN/VRC-111 Vehicle Adapter Amplifier (VAA) and its Base Station. The VAA consists of two Thales Vehicle Adapters, two JEM handheld radios, and a SINCGARS interface tray. The VAA provides multiband, multimode capability beyond basic SINCGARS and offers unique, one-second, cable-free radio dismount that enables a seamless transition from mounted to dismounted operations. The power-boosting Base Station, designed for fixed command center operations, supports and maintains all functionality of the JEM and Vehicle Adapter. The JEM, VAA, Vehicle Adapter, and Base Station are part of a complete system solution for the warfighter that also includes a self-contained Tactical Repeater for range extension; compact, rugged Man Portable System for dismounted operations requiring higher power output; and a complete line of accessories.
Sergyi Way
10.07.2007


www.army-guide.com
Share...




TEMPORARY COMPANY GROUPING EBMR MEETS ITS DELIVERY OBJECTIVES FOR 2019
14.01.2020
Rheinmetall Presents Next Gen "Wiesel Wingman" solution for Robotic Combat Vehicle – Light at AUSA 2019
04.11.2019
THALES AUSTRALIA AND GENERAL DYNAMICS ORDNANCE AND TACTICAL SYSTEMS DELIVERING FOR THE ADF
12.06.2019
FN Herstal Enhances Self-Protection Capabilities of deFNder RWS with ANTARES Situational Awareness System
11.06.2018
Thales Raytheon Systems France
Thales Optronics (Taunton) Ltd
Thales Training & Simulation (USA)
JTRS (Radio communication system)
Discuss