BAE Systems Receives $213.9 M Contract from U.S. Marine Corps for 441 Mine Resistant Ambush Protected Vehicles
Category: Contracts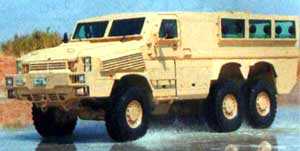 BAE Systems has received a $213.9 million delivery order from the U.S. Marine Corps for 425 Category I 4x4 and 16 Category II 6x6 Mine Resistant Ambush Protected (MRAP) Vehicles.
The highly survivable RG33 4X4 provides an enhanced degree of mission flexibility. The RG33 series offers both improved survivability and more volume under armor than any other mine protected vehicle and incorporates the latest designs in protecting against improvised explosive devices.
The delivery order also includes an additional 16 Category II MRAP 6x6 vehicles configured as ambulances and an additional variant. The RG33L MRAP ambulance vehicle can accommodate several litter and ambulatory patients via a novel litter lift system. The vehicle also provides space for a medic work station and key medical equipment.
This highly mobile and survivable vehicle will allow Marines and soldiers to receive immediate medical care in a combat environment.
Sergyi Way
12.07.2007


www.army-guide.com
Share...




Oshkosh Defense Receives $407.3 Million Order for Joint Light Tactical Vehicles
24.02.2020
BAE Systems` CV90 increases lethality by testing SPIKE LR anti-tank guided missile
14.01.2020
U.S. Marine Corps orders more Amphibious Combat Vehicles
11.11.2019
RAVEN Countermeasure System protects vehicles from missile threats
15.10.2019
BAE Systems Land Systems Hagglunds AB
BAE SYSTEMS Advanced Technology Centre
BAE SYSTEMS Customer Solutions & Support Land & Sea
BAE SYSTEMS Operational Training
BAE SYSTEMS RO Defence Small Arms Ammunition Division
BAE Systems North America, Land & Information Systems
RG-33 MRAP II (Mine protected carrier)
Cougar MRAP (Mine protected carrier)
Caiman MRAP (Mine protected carrier)
LAZAR BVT 8808-SR MRAP (Mine protected carrier)
MRAP-VVT (Crew training simulator)
Sherpa Medium MRAP (Mine protected carrier)
Discuss