The Finnish Defence Forces has awarded a contract for Environics Oy
Category: Defence Industry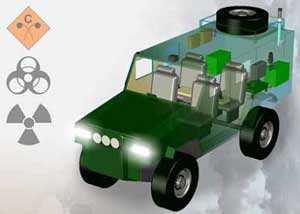 The Finnish Defence Forces has awarded Environics Oy the contract for lightweight CBRN Reconnaissance Vehicles after an open international bidding contest.
The contract is for a light CBRN vehicle prototype and production options. The value of the contract if the options are executed will be approximately 15 million euros.
During the project a next generation reconnaissance vehicle, which will be suited for light crossterrain use, will be manufactured. The vehicle will contain a wide selection of measurement and analysis equipment and will have protection for both ballistic and NBC threats. Other countries have also been interested in similar undertakings to replace the older and heavier reconnaissance vehicles so the contract is very significant opening for international markets as well.
Environics Oy
31.08.2007

Share...




TEMPORARY COMPANY GROUPING EBMR MEETS ITS DELIVERY OBJECTIVES FOR 2019
14.01.2020
Kungas Unmanned Ground Vehicle Tested in Russia
11.12.2019
Switzerland awards contract to General Dynamics European Land Systems- Mowag to deliver 100 EAGLE 6x6 reconnaissance vehicles
06.12.2019
Rheinmetall Presents Next Gen "Wiesel Wingman" solution for Robotic Combat Vehicle – Light at AUSA 2019
04.11.2019
EDO Reconnaissance and Surveillance Systems
Armed Forces Surveillance and Reconnaissance Technologies
Piranha III CBRN (Nuclear/biological/chemical reconnaissance vehicle)
Pars 6x6 CBRN (Nuclear/biological/chemical reconnaissance vehicle)
Cameleon CBRN (Robot, Unmanned Vehicle)
Discuss