New 'Transformer-like' Robotic Platform Unveiled
Category: Robots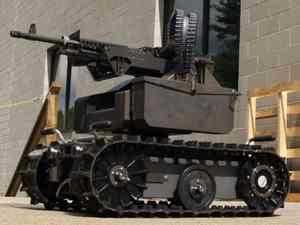 WASHINGTON, DC -- QinetiQ North America announced today that its Foster-Miller, Inc. subsidiary is introducing a totally new, 'transformer-like' robotic platform at AUSA, the US Army's annual meeting and exhibition (October 8-10, Washington DC, Booth No. 3443).
The company's latest innovation in robotics introduces a new modular design to its popular line of TALON and SWORDS robots for military and first responders.
The current TALON robot is designed with a manipulator arm and gripper for identification and neutralization of roadside bombs and related tasks. Similarly the SWORDS robot is fitted with an M249 Squad Automatic Weapon for use by infantry forces to secure checkpoints and to conduct armed reconnaissance.
Now Foster Miller's newest military robot, named MAARS (Modular Advanced Armed Robotic System), is modular in design, uses the more powerful M240B Medium Machine Gun and has significant improvements in command and control, situational awareness, maneuverability, mobility, lethality and safety compared to its SWORDS predecessor.
The purpose-built MAARS chassis provides a uni-body frame with easier battery and electronics accessibility. Other features include a larger payload bay, higher torque, creating faster ground speeds and improved braking. The new Digital Control Unit significantly improves command and control and situational awareness for the operator resulting in greater safety margins. The complete system weighs about 350 pounds. The weaponized version of the MAARS robot is on display this week at the AUSA annual meeting.
MAARS will also come with a new manipulator arm having a nominal 100 lb lift capability. The arm can quickly replace the turret mounted M240B weapon, literally transforming it from a remote weapons platform for force protection to an Improvised Explosive Device (IED) identification and neutralization tool. The MAARS robot will not only permit units to employ multiple mission payloads but production of common chassis and Digital Control Units will also lead to economies of scale resulting in lowered customer costs.
"Foster-Miller is proud to introduce the new MAARS robot to the US Military personnel who risk their lives every day defending our freedom" said Dr. William Ribich, President of QinetiQ North America's Technology Solutions Group. "The challenge before us now isn't technological in nature but rather the widespread training of our forces to use this greatly enhanced robotic capability."
Foster-Miller
11.10.2007

Share...




QNA Partners with Persistent Systems to Integrate MPU5 Radios into Family of UGV
12.01.2017
Xiphos
12.04.2013
Daisho
10.04.2013
U.S. Army building smarter robots
01.11.2010
TALON (Robot, Unmanned Vehicle)
SWORDS (Robot, Unmanned Vehicle)
MAARS (Robot, Unmanned Vehicle)
Hafeet 640 Talon (Armoured car)
Discuss