New Trends Emerging for Land & Sea-Based EO Systems
Category: Defence Industry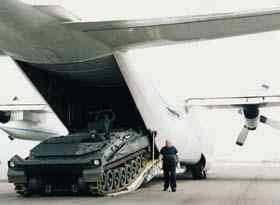 In a new analysis, "The Market for Land & Sea-Based Electro-Optical Systems," Forecast International is projecting that an estimated $8.36 billion will be spent on the development and production of key land- and sea-based electro-optical (EO) systems over the next 10 years.
The pressing need for the all-important troop-level systems, such as night vision goggles and thermal viewing systems, will drive procurement in this market segment for the next few years. Still, the introduction of some significant, new EO systems is fast emerging as a major market force for the years ahead.
The market leaders among land- and sea-based EO system providers are ITT, DRS Technologies, Northrop Grumman, Raytheon, Thales, and Australia's Electro Optic Systems. The Australian company is expected to produce an estimated 5,724 of its Electro-Optic Fire Control Systems (EFCS) over the next 10 years, at a value of $954 million. EFCS is being considered for some significant European and Middle Eastern programs, and is currently fitted to Singapore's Bionix infantry fighting vehicle (IFV).
ITT will likely continue to dominate the EO market for its key involvement in one of the most ubiquitous systems on the modern battlefield: the night vision goggle. Production of the company's PVS-14 for the U.S. military alone will run at 50,000-70,000 units per year well into the next decade. A recent $33 million order from Norway for 4,400 units will significantly boost the system's international production line.
DRS Technologies has moved into the top rankings of EO producers for its growing involvement in some of the most important land- and sea-based EO systems on the market. The company recently chalked up new orders for its version of the PAS-13 Thermal Weapon Sight, also known as the TWS II. Under the FY08/09 U.S. defense budget, annual funding rates for the TWS will be at an all-time high. Roughly $200 million per year will be pumped into purchases of the PAS-13 through 2011.
Meanwhile, French defense giant Thales is carving an important niche for itself in the development of new naval EO systems for some important emerging platforms. Since the deadly attack on the small craft, the USS Cole, in October 2000, there has been be a marked shift in development of sea-based EO systems from a focus on defense from airborne missile attack to an emphasis on the surveillance and targeting of small, sea-based threats. Thales has recently introduced the Artemis system for improved situational awareness and ship self-protection. The company has already secured a place for Artemis on the French Navy's complement of multifunction FREMM frigates, and stands a good chance of seeing orders for other international clients in the years ahead.
Sergyi Way
16.11.2007

Share...




TEMPORARY COMPANY GROUPING EBMR MEETS ITS DELIVERY OBJECTIVES FOR 2019
14.01.2020
Rheinmetall Presents Next Gen "Wiesel Wingman" solution for Robotic Combat Vehicle – Light at AUSA 2019
04.11.2019
Raytheon, Rheinmetall form joint venture for US Army combat vehicle competition
02.10.2019
THALES AUSTRALIA AND GENERAL DYNAMICS ORDNANCE AND TACTICAL SYSTEMS DELIVERING FOR THE ADF
12.06.2019
Thales Raytheon Systems France
Thales Optronics (Taunton) Ltd
JPS COMMUNICATIONS, INC. A RAYTHEON COMPANY
Corporate Communications Raytheon Company
Thales Training & Simulation (USA)
Discuss