Entire order volume at more than 120 MioEUR
Category: Defence Industry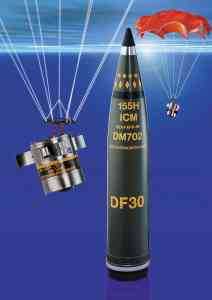 Subsidiary of Rheinmetall and Diehl concludes procurement contract for SMArt munition with British and Australian armed forces.
Intelligent artillery munition SMArt 155 valued at more than 120 MioEUR was ordered by the armed forces of Great Britain and Australia at GIWS mbH, a joint subsidiary of Rheinmetall AG, Dusseldorf and Diehl Stiftung & Co. KG, Nurnberg. Production and integration is carried out by Diehl and Rheinmetall, both 50% shareholders of GIWS.
The sensor fused munition SMArt 155, DM 702 A1 was originally developed for the Bundeswehr and has been operative there since 2000. Moreover, SMArt 155 is operative in Greece and in Switzerland.
The sales success in England and Australia underscores the leading global position of Diehl and Rheinmetall in the segment of modern artillery munition.
The new munition is an important component of the British armed forces' IFPA programme (Indirect Fire Precision Attack) and the development of SMArt with a new explosive is planned to be compliant with the UK's Insensitive Munition (IM) policy.
SMArt 155 provides the artillery with greater operational accuracy while simultaneously reducing collateral damage and logistic burden when compared to current high explosive rounds. Moreover, it enables protection as well as an effective increase of the combat forces' capability to prevail at considerably higher cost effectiveness.
SMArt can be fired from any 155 mm piece of artillery. Equipped with high-performance sensors as well as intelligent signal processing, the munition seeks its targets independently – regardless of weather conditions and any hour of day and night. Modern artillery units acquire a new capability with this technology jointly developed by Diehl and Rheinmetall: High-precision impact on static and mobile targets with soft or strong armament even in difficult terrain. This saves munition and reduces the danger of collateral damage. In case no target is identified, the munition destroys itself. Consequently duds are ruled out.
Rheinmetall
12.01.2008

Share...




Rheinmetall MAN Survivor R special protected vehicle on show at GPEC 2020 international security exhibition in Frankfurt/Main
24.02.2020
Rheinmetall books ˆ110 million-contract to extend the service life of the Marder infantry fighting vehicle for the Bundeswehr
21.01.2020
Rheinmetall to Feature Next Generation 130mm Tank Gun at AUSA Global
04.11.2019
Rheinmetall Presents Next Gen "Wiesel Wingman" solution for Robotic Combat Vehicle – Light at AUSA 2019
04.11.2019
Rheinmetall MAN Military Vehicles GmbH - RMMV
Rheinmetall Verseidag Ballistic Protection GmbH
Rheinmetall Soldier Electronics GmbH
Rheinmetall AG, Representative Office Abu Dhabi
Rheinmetall Waffe Munition GmbH
Rheinmetall Defence Electronics GmbH
Rheinmetall Waffe Munition Arges GmbH
American Rheinmetall Munitions, Inc. - ARM
Rheinmetall Denel Munition (Pty) Ltd - RDM
Discuss