Active Protection for Armored Fighting Vehicles from RAFAEL and ELTA
Category: Defence Industry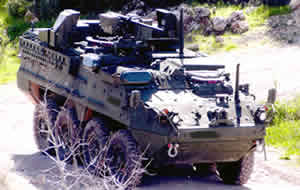 Haifa, March 8, 2005 - RAFAEL Armament Development Authority Ltd., as prime contractor and ELTA Systems Group as part of the team, introduce the TROPHY Active Protection System (APS) for Armored Fighting Vehicles (AFV).
The TROPHY is a unique and advanced system that offers a solution for a variety of anti-tank missile threats. The TROPHY system rapidly detects and tracks the anti-tank missile threat, classifies it, estimates the optimal intercept point in space and finally neutralizes it away from the platform.
"Until recently, APS systems such as TROPHY were considered science fiction" says Dr. Eitan Yudilevich, Corporate VP Marketing and Business Development at RAFAEL. "We've made them a reality. AFVs equipped with TROPHY will benefit from improved survivability and overall effectiveness."
TROPHY is currently ready for integration onto heavy, medium and light platforms against all types of HEAT threats including all known types of Anti Tank Guided Missiles (ATGM) and Anti Tank Rockets (ATR).
RAFAEL designs, develops, manufactures and supplies a wide range of advanced defense systems for all branches of the military and Homeland Security forces. Tailored to its customer's specific needs, RAFAEL provides state-of-the-art, yet cost-effective systems and weapons in the fields of Missiles, Air Defense, Naval Systems, Target Acquisition, EW, C4ISR, Communication Networks, Data Links, Electro-Optic Payloads, Trainers and Simulators, Add-on Armor, Combat Vehicle Upgrading, Mine Field Breaching, Border and Coastal Protection Systems, UAVs and much more
Share...




BAE Systems` CV90 increases lethality by testing SPIKE LR anti-tank guided missile
14.01.2020
RAVEN Countermeasure System protects vehicles from missile threats
15.10.2019
Raytheon, Rheinmetall form joint venture for US Army combat vehicle competition
02.10.2019
MBDA SHOWCASES TANK DESTROYER VEHICLE WITH PGZ AT MSPO 2019
12.09.2019
RAFAEL Armament Development Authority Ltd.
RAFAEL Ordnance Systems Division
Discuss