Rheinmetall to supply the United Arab Emirates with 32 Fuchs/Fox NBC armoured reconnaissance vehicles
Category: Defence Industry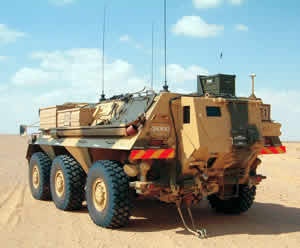 The United Arab Emirates (UAE) has awarded Rheinmetall a contract to supply 32 Fuchs/Fox NBC armoured reconnaissance vehicles. The seal was set to the agreement on March 5, 2005 during a state visit of German Chancellor Gerhard Schroeder in Abu Dhabi.
The order is worth around EUR 160 million. Thanks to its subsidiary Rheinmetall Landsysteme GmbH of Kiel, the Rheinmetall Group is one of the world's leading manufacturers of tracked and wheeled armoured vehicles, as well as a top specialist in the field of NBC defence systems.
Klaus Eberhardt, Chairman of the Executive Board of Rheinmetall AG, described the order as "a token of the trust" placed in Europe's leading supplier of ground forces technology, adding that "it is also evidence of the good political relations which have been developing between the Emirates and the Federal Republic of Germany."
The NBC Fuchs/Fox is a highly mobile armoured transport vehicle featuring a fully equipped laboratory. Owing to its highly advanced sensor and analysis technology, it can reliably detect nuclear and chemical threats, thus enabling protective countermeasures to be taken on a timely basis.
Moreover, thanks to the integration of newly developed equipment for detecting bio weapons, the UAE order is a further affirmation of Rheinmetall's technological supremacy in this important market. For the first time, the vehicle will include a biological laboratory where weapons based on viruses, bacteria or toxins can be analyzed and identified.
Over 1,200 Fuchs/Fox systems have now been built. The NBC version of the vehicle has already proved its mettle in crisis regions around the world. Of the 260 NBC vehicles built thus far, 123 are in service with the armed forces of the United States; other user nations include Germany, the United Kingdom, the Netherlands and Saudi Arabia.
On behalf of the German Bundeswehr, Rheinmetall has also developed a mobile NBC laboratory which can be transported to the area of operations by road, rail, sea or air. The NBC field laboratory has proved highly efficient in detecting enriched uranium and radioactive waste in the former Yugoslavia.
In the realm of civil defence, Rheinmetall has thus far supplied 344 NBC detection vehicles to German fire departments, ensuring they are optimally equipped to deal with these hazards to the homeland.
Oliver Hoffmann
28.03.2005
www.rheinmetall-detec.com
Share...




Rheinmetall MAN Survivor R special protected vehicle on show at GPEC 2020 international security exhibition in Frankfurt/Main
24.02.2020
Rheinmetall books ˆ110 million-contract to extend the service life of the Marder infantry fighting vehicle for the Bundeswehr
21.01.2020
Rheinmetall to Feature Next Generation 130mm Tank Gun at AUSA Global
04.11.2019
Rheinmetall Presents Next Gen "Wiesel Wingman" solution for Robotic Combat Vehicle – Light at AUSA 2019
04.11.2019
Rheinmetall MAN Military Vehicles GmbH - RMMV
Rheinmetall Verseidag Ballistic Protection GmbH
Rheinmetall Soldier Electronics GmbH
Rheinmetall AG, Representative Office Abu Dhabi
Rheinmetall Waffe Munition GmbH
Rheinmetall Defence Electronics GmbH
Rheinmetall Waffe Munition Arges GmbH
American Rheinmetall Munitions, Inc. - ARM
Rheinmetall Denel Munition (Pty) Ltd - RDM
Reutech Fuchs Electronics (Pty) Ltd
TPzl-FOX/FUCHS (Nuclear/biological/chemical reconnaissance vehicle)
TPzl-FOX/FUCHS (Command vehicle)
FUCHS 2 (Nuclear/biological/chemical reconnaissance vehicle)
Fuchs/Fox KAI (Mine clearing vehicle)
Discuss