Ceradyne, Inc. Receives Order for Lightweight HEMTT Prototype Armor Kit
Category: Defence Industry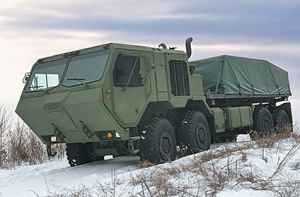 COSTA MESA -- Ceradyne, Inc. announced it has received an initial order for its B-Kit prototype armor kit from Oshkosh Truck Corporation for a lightweight HEMTT A3 crew cab armor applique program.
This prototype order, in excess of $200,000, is scheduled to be completed in the second quarter of 2008.
Marc King, President of Ceradyne Armor Systems, Inc., commented: "We are pleased to have received this prototype order as it will incorporate Ceradyne's LTAS (Long Term Armor Strategy) certified design. We believe that the Ceradyne armor solution shall result in a cost effective lightweight armor program."
Ceradyne develops, manufactures and markets advanced technical ceramic products and components for defense, industrial, automotive/diesel and commercial applications. Additional information about the Company can be found at www.ceradyne.com.
Ceradyne, Inc
06.02.2008

Share...




OSHKOSH DEFENSE AWARDED $40 MILLION FROM U.S. ARMY FOR RECAPITALIZATION OF THE ARMY RESERVES HEAVY VEHICLE FLEET
28.12.2017
Oshkosh to Upgrade the US Army's Heavy Tactical Vehicles
26.03.2016
Oshkosh Defense to Showcase Winning JLTV at AUSA Global Force Symposium
16.03.2016
Oshkosh Awarded Contract to Recapitalize US Army's Heavy Tactical Vehicles
24.06.2015
Discuss