Delivery of the 100th upgraded AMX10RC to the French Army
Category: Defence Industry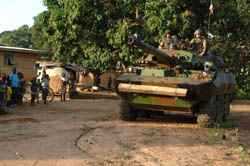 On 29th January 2008, Nexter Systems delivered the 100th upgraded AMX10RC armoured vehicle to the French Army.
This delivery took place in the scope of a contract, awarded by the French Procurement Authority (DGA) in December 2000, for the upgrading of 256 AMX10RC armoured vehicles.
The upgrading of the AMX10RC consists in improving the reliability of the chassis, completely accomodating the turret and integrating the SIT V1 Battle Management System. By last August, SIT V1 was qualified by the DGA, notably on board the AMX10RC. The vehicle operational evaluation was achieved without any problem and, in 2006, a squadron of upgraded AMX10RC from the Foreign Legion 1 Cavalry Regiment, was sent to the Ivory Coast to take part in the Operation Licorne.
The French Army Material Command (DCMAT), as a MoD partner, produces the upgraded chassis by using systems delivered by Nexter Systems. Nexter Systems upgrades the turrets and completes the vehicle final integration.
Nexter
06.02.2008

Share...




TEMPORARY COMPANY GROUPING EBMR MEETS ITS DELIVERY OBJECTIVES FOR 2019
14.01.2020
CZECH REPUBLIC SIGNED THE ACQUISITION CONTRACT FOR 62 TITUS
30.07.2019
KMW and Nexter join forces on Main Ground Combat System
21.06.2018
With the TITUS® mission orchestration, Nexter asserts its position as a global player in the digitization of the land defense
20.06.2018
Discuss