Self-entrenching device
Category: Term of the day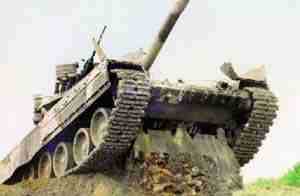 A small dozer blade attached to the front of an armoured vehicle to enable the vehicle to dig itself in, in order to give better protection.
This device provide the armoured vehicle with the tactical advantages of being able to achieve protection from artillery fire and concealment.
The self-entrenching device usually has two positions – travelling and operating ones.
Traditionally, the Soviet T-series tanks were fitted with self-entrenching devices, while the designers of Western tanks neglected this rather useful capability. Nowadays, however, some of the Western tanks are also fitted with self-entrenching devices.
Sergyi Way
18.10.2006


www.army-guide.com
Share...




FNSS Reveals PARS III 8x8 Engineering Vehicle
29.04.2019
Otokar showcases 15 vehicles at IDEF 2017
09.05.2017
Rheinmetall AMPV on MSPO 2015
12.09.2015
Quantum Stealth: The Invisible Military Becomes A Reality
13.12.2012
Discuss