Contract for weapon control systems to Slovenia valued at MNOK 100
Category: Defence Industry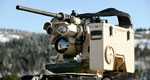 Kongsberg has signed a contract with Patria for the Protector weapon control system for delivery to the Slovenian Army. The order is valued at approx. MNOK 100. The delivery of the systems will take place from 2009 to 2011.
The Protector weapon control system protects military troops by allowing the vehicle's weapons to be operated from a protected position inside the vehicle.
KONGSBERG is a multinational, knowledge-based group with more than 5000 employees in more than 25 countries. The Group delivers high-technology systems to discerning customers engaged in offshore oil and gas production, the merchant marine, and the defence and aerospace industries. KONGSBERG is listed on the Oslo Stock Exchange (Ticker: KOG), and posted operating revenues of NOK 8.3 billion in 2007.
Kongsberg
10.01.2009

Share...




Oshkosh Defense Receives Order for 248 Joint Light Tactical Vehicles
02.07.2020
KONGSBERG CONCLUDES A $ 54 MILLION CONTRACT FOR THE DELIVERY WEAPON STATIONS TO CANADIAN ARMY
05.06.2020
Oshkosh Defense Receives $407.3 Million Order for Joint Light Tactical Vehicles
24.02.2020
CONTRACT TO DELIVER REMOTE WEAPONS STATIONS TO DENMARK WORTH 270 MNOK
11.12.2019
Kongsberg Defence & Aerospace AS
Slovenian Defence Industry-Chamber of Commerce & Industry of Slovenia
M151 Protector RWS (Remote controlled weapon station)
Protector Javelin (Remote controlled weapon station)
Protector Lite (Remote controlled weapon station)
M 153 Protector CROWS II (Remote controlled weapon station)
Protector (Wheeled armoured personnel carrier)
Protector MAV (Wheeled armoured personnel carrier)
Casspir Mk VI Protector (Mine protected carrier)
Protector Dual RWS (Remote controlled weapon station)
Protector Super Lite (Remote controlled weapon station)
PROTECTOR MCT-30 (Remote controlled weapon station)
Protector Nordic (Remote controlled weapon station)
Protector (Robot, Unmanned Vehicle)
Discuss