GD Awarded Test Vehicle Contract for Four Mine Resistant Ambush Protected Vehicles
Category: Defence Industry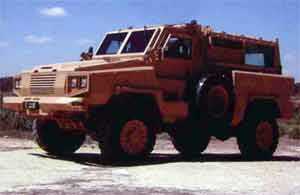 U.S. Marine Corps Systems Command (MCSC) has awarded General Dynamics Land Systems-Canada an Indefinite Delivery, Indefinite Quantity (IDIQ) contract and an initial delivery order for the testing, production and support of four Mine Resistant Ambush Protected (MRAP) vehicles.
The MRAP vehicles will provide improved protection for troops from mines, improvised explosive devices and other threats. A possible follow-on production contract could call for the delivery of up to 4100 vehicles.
Under this contract, General Dynamics Land Systems-Canada will provide the program management and logistic support while BAE Systems Ground Systems Division, in conjunction with BAE Systems Land Systems OMC, will manufacture the vehicles in York, Pennsylvania. General Dynamics Land Systems-Canada is providing vehicles for both Category I and Category II requirements of the MRAP program under this contract.
The General Dynamics Land Systems-Canada MRAP vehicle is based on the RG-31 Mk5, the latest version of the highly successful RG-31 vehicle family. The Mk5 delivers a significant increase in power and payload while offering enhanced mine blast resistance, as well as protection against both improvised explosive devices and ballistic threats. In service with forces around the world, the RG-31 is a highly effective multi-role armored vehicle capable of a variety of military applications. U.S. forces have ordered or received 424 RG-31 vehicles, including 265 Mk5s for the U.S. Army and SOCOM.
Sergyi Way
02.02.2007


www.army-guide.com
Share...




BAE Systems` CV90 increases lethality by testing SPIKE LR anti-tank guided missile
14.01.2020
Switzerland awards contract to General Dynamics European Land Systems- Mowag to deliver 100 EAGLE 6x6 reconnaissance vehicles
06.12.2019
U.S. Marine Corps orders more Amphibious Combat Vehicles
11.11.2019
RAVEN Countermeasure System protects vehicles from missile threats
15.10.2019
General Dynamics Land Systems - GDLS
General Dynamics Ordnance and Tactical Systems
BAE Systems Land Systems Hagglunds AB
General Dynamics European Land Systems-Mowag GmbH
General Dynamics Santa Barbara Sistemas
General Dynamics Armament Systems
General Dynamics Defence Systems
General Dynamics European Land Systems-Steyr GmbH
General Dynamics Armament and Technical Products (GDATP)
General Dynamics Amphibious Operations - GDAMS
BAE SYSTEMS Advanced Technology Centre
BAE SYSTEMS Customer Solutions & Support Land & Sea
BAE SYSTEMS Operational Training
BAE SYSTEMS RO Defence Small Arms Ammunition Division
BAE Systems North America, Land & Information Systems
General Dynamics Corp., Advanced Information Systems
General Dynamics Robotic Systems - GDRS
General Dynamics Land Systems - GDLS - Canada
General Dynamics European Land Systems - GDELS
RG-33 MRAP II (Mine protected carrier)
Cougar MRAP (Mine protected carrier)
Caiman MRAP (Mine protected carrier)
LAZAR BVT 8808-SR MRAP (Mine protected carrier)
MRAP-VVT (Crew training simulator)
Sherpa Medium MRAP (Mine protected carrier)
Discuss