More Automatic Ammunition-Handling on Stryker for Meggitt
Category: Defence Industry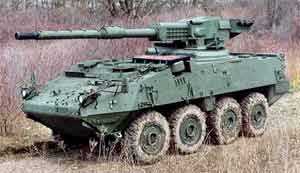 Meggitt Defence Systems has won another 80 automatic 105 mm ammunition replenisher systems for the M1128 Stryker Mobile Gun System (MGS) worth around $11.5 million. Developed under contract to General Dynamics Land Systems, over 100 systems including spares, support, and reset have been delivered since 2004.
The Stryker MGS replenisher, which holds ten 105 mm rounds in the vehicle's hull and automatically transfers ammunition into the ready magazine in the turret, has seen extensive combat duty in Iraq since its deployment in 2006.
Greg Hill, Director of Meggitt's ammunition handling system business area team, said, "We are proud to be part of GDLS' Stryker team and the combat record we have helped build with our system."
The equipment will be manufactured at Meggitt's facility in Irvine, California.
Meggitt Defence Systems, a Meggitt group company, specialises in the design, development and production of ammunition-handling, environmental control and training systems. Its products are found on many of the world's leading military platforms including the Abrams main battle tank, Stryker Mobile Gun System, the F-16 Falcon, the F/A-18 Hornet, AC-130 Spectre Gunship, and the AH-64D Apache Attack Helicopter.
The Meggitt group, headquartered in the UK, designs and makes high performance components and systems for aerospace and defence. The group employs c. 8,000 people across 34 operating companies.
Meggitt
17.10.2008

Share...




Meggitt Training Systems to exhibit at DSEI 2017
14.09.2017
Recapitalization of 218 M1A2 Tanks and Related Equipment and Support
16.12.2016
ADF Weapons Simulator Contract
06.07.2016
Meggitt Training Systems Awarded $25 M Support Contract with Canadian Armed Forces
26.08.2015
Discuss