FAAC Incorporated receives USMC Operator Driving Simulator Contract Modification Valued at $4.0M to Include Additional Key International Installations
Category: Training And Simulators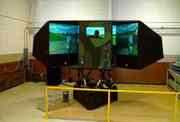 Ann Arbor, Michigan –– FAAC Incorporated, part of Arotech Corporation's Training and Simulation Division, has received a contract modification valued at $4.0M.
The modification adds a dual-simulator mobile system for Marine Corp Air Station Iwakuni, Japan; three full-motion 6DOF simulators for Camp Hansen Okinawa, Japan; and 3 additional dual-simulator mobile systems for U.S. based Marine Force Reserve sites.
This modification to FAAC's contract with the U.S. Marine Corps Systems Command, Program Manager for Training Systems (PM TRASYS), increases the total number of USMC ODS systems procured to 26 systems with a total of 51 simulators.
The USMC ODS originally employed in operations of M1114 Up-Armored HMMWV and MK-23 with Marine Armor System has been extended to include USMC Mine Resistance Ambush Protected fleet of vehicles: 4 x 4 Cougar Category I, 6 x 6 Cougar Category II, and 6 x 6 Buffalo Category III vehicle. "The advantage of this system is that it is a one-stop shop for commanders who can train their Marines on a range of tactical vehicles," said Capt Garrett Hager, PM TRASYS USMC ODS Project Officer, quoted in the Show Daily during the recent Interservice/Industry Training, Simulation and Education Conference (I/ITSEC) in Orlando in December 2008.
About Arotech's Training and Simulation Division
Arotech's Training and Simulation Division (ATSD) provides world-class simulation based training solutions. ATSD develops, manufactures, and markets advanced high-tech multimedia and interactive digital solutions for engineering, use-of-force, and driver training simulations for military, law enforcement, security, municipal and private industry personnel. The division's fully interactive driver-training systems feature state-of-the-art vehicle simulator technology enabling training in situation awareness, risk analysis and decision-making, emergency reaction and avoidance procedures, and conscientious equipment operation. The division's use-of-force training products and services allow organizations to train their personnel in safe, productive, and realistic environments. The division provides consulting and developmental support for engineering simulation solutions. The division also supplies pilot decision-making support software for the F-15, F-16, F-18, and JSF aircraft, as well as simulation models for the ACMI/TACTS air combat training ranges.
FAAC
11.02.2009

Share...




401st Completes M1114 Vehicle Transfer to Afghan National Army
02.01.2013
BAE Systems Introduces New Gun Shield to Ease Transport of Vehicles
10.10.2011
BAE Receives Contract for Modifications to VEE Window
21.09.2010
BAE Systems Receives $60 Million Thermal Imaging Module Contract For U.S. Army Remote Weapon Systems
21.05.2008
Discuss