LEGUAN - now also with two 14-metre bridges
Category: Defence Industry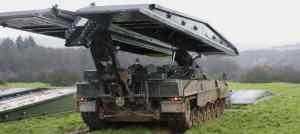 Using an electronic control system, the LEGUAN armoured bridge-layer from Krauss-Maffei Wegmann GmbH & Co. KG (KMW) lays a bridge, load category MLC 80 and 26 metres in length, in just six minutes.
Even in the dark and with the hatches closed, the bridge system can be operated by a single person. In place of the 26-metre bridge, the LEGUAN can now for the first time also lay two bridges, each 14 metres in length, as a result of which the possible applications of the LEGUAN are considerably extended off road. At the same time the system with its 1,500 PS engine is extremely mobile, despite its weight of 62.6 tonnes (LEOPARD 2), so it meets all the requirements for international deployments, including anti-mine protection.
International deployments for bridge system
KMW has already produced the LEGUAN bridge-layer on the basis of the LEOPARD 1 or LEOPARD 2 battle tank for the Norwegian, Greek, Belgian and Finnish armed forces. The bridge-laying system can, however, also be mounted on other used or new battle tank chassis. For example, it is also in use on chassis of the Polish PT91, the American M1 "Wolverine" and the M47/M60 in Spain. But the bridge can also be laid by wheeled vehicles, such as the MAN 8x8 and the 10x10 vehicle from Finnish company SISU. With the aid of additional pontoons, the LEGUAN can also be used to construct ferries of various load categories, and if necessary linked together to form floating bridges.
KMW
25.02.2009

Share...




Multimillion-euro order from Hungary
02.10.2019
The Dutch armed forces select Rheinmetall to modernize their Bergepanzer 3 Büffel
17.05.2019
Krauss-Maffei Wegmann supports the modernization of the Hungarian Army
22.12.2018
Rheinmetall ships 200th Puma IFV to the Bundeswehr
05.06.2018
Krauss-Maffei Wegmann GmbH & Co.KG - KMW
LEGUAN 26M AVLB (Armoured vehicle-launched bridge)
LEGUAN 26M (Armoured vehicle-launched bridge)
Discuss