Textron to Build 15 Additional Armored Security Vehicles for US Army
Category: Defence Industry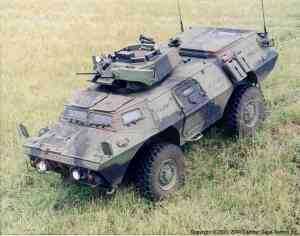 NEW ORLEANS, LA. -- Textron Marine & Land Systems, an operating unit of Textron Systems, a Textron Inc. company, has been awarded a $10.9 million contract modification by the United States Army Tank-automotive and Armaments Command (TACOM) to build an additional 15 Armored Security Vehicles (ASV).
With the contract modification, TACOM is exercising an option in the existing contract. Since the inception of the program in 1999 a total of 2,667 ASVs have been contracted, with 1,922 vehicles delivered to date.
"The requirement of the U.S. Army for additional ASVs reinforces our pride in the effectiveness of the vehicle and the people that build it here in Louisiana," said Textron Marine & Land Systems General Manager Tom Walmsley. "The on-time delivery and efficient manufacturing record of our employees is eclipsed only by the performance of the ASV in combat protecting our soldiers and carrying out missions whenever called upon."
The ASV has maintained exceptional operational readiness and combat availability rates over the life of the U.S. Army program as vehicles log more than 30,000 miles per year in combat operations. Textron Marine & Land Systems has achieved more than 40 consecutive months of on-time delivery to the U.S. Army on the ASV program.
The ASV is a 4X4 wheeled armored vehicle that offers significant crew protection through the employment of multiple layers of armor, defending against small arms fire, artillery projectile fragments, Improvised Explosives Devices (IEDs) and land mines. This advanced armor is exceedingly lightweight and, along with its dimensions, allows the vehicle to be able to "roll-on/roll-off" C-130 military transport aircraft.
The ASV possesses superior mobility, agility, handling and ride quality through the utilization of a four-wheel independent suspension system. Textron Marine & Land Systems has equipped the M-1117 ASV with a specially designed dual-weapon station that, unlike many other vehicles, enables the crew to load, reload and clear gun jams under full armor protection.
With minor modifications and appropriate outfitting, ASV variants can perform a wide variety of missions including scout, infantry personnel carrier, reconnaissance, command and control and recovery. Current missions of the ASV include operations with the Military Police, convoy protection, as well as Field Artillery Combat Observation and Lasing Teams (COLT) with the M-1200 ASV variant. Its record of performance, reliability and survivability in the field is impeccable in U.S. Army operations around the globe.
Textron
06.03.2009

Share...




Textron Systems Announces Plans to Acquire Robotics Innovator Howe & Howe Technologies
04.11.2018
Textron Systems Delivers First TAPV to the Canadian Army
30.08.2016
WFEL extends US Army contract with £30m upgrade deal
21.07.2016
Alcoa Awarded up to $50 M from US Army to Advance Combat Vehicles
04.03.2016
US Army Tank-automative & Armaments Command (TACOM)
Textron Systems Maui Operations
Discuss