Delivery Of The First Batch Of Nimr For UAE Armed Forces
Category: Contracts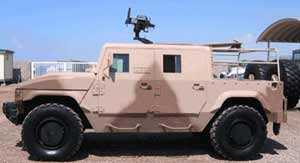 After several years of intense efforts and investments, Bin Jabr Group´s NIMR 4X4 vehicles began active operations when the first batch was delivered to the UAE Armed Forces in January.
This high-mobility, multi-mission platform will successively equip various operational units from the logistic, signal, air defense and combat branches. As the first automotive industrial defense company in the whole middle east, Bin Jabr Group, emirates company, is planning to invest several million US dollars in building a second factory in Abu Dhabi in 2010.
Bin Jabr Group
06.03.2009

Share...




MTL Advanced signs multi-million pound contract with NIMR Automotive
05.02.2016
New Contracts To Boost Denel's Armoured Vehicle Business
10.11.2015
UAE Ministry of Interior acquires 200 NIMR vehicles
27.03.2012
Tawazun to reveal UAE`s emerging manufacturing and technology capabilities at International Armoured Vehicles
23.02.2012
DEUTZ Motor C/O Bin-Jabr Group LTD.
Nimr (HMTV) (Tactical vehicle)
Discuss