New Contracts To Boost Denel's Armoured Vehicle Business
Category: Contracts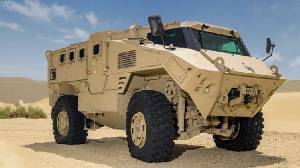 Denel Vehicle Systems has concluded a contract of more than R900-million with NIMR in the United Arab Emirates for the development and supply of advanced mine-protected vehicles.
This contract for N35 is one of the largest received by Denel Vehicle Systems (DVS) in recent years and will provide work for two of the company's major divisions for the next 24 months.
Zwelakhe Ntshepe, Group Executive Business Development says the new contract confirms Denel's leadership role in landward mobility and mine-protected vehicles. It is one of several contracts awarded to DVS since it joined the Denel Group earlier this year.
"We are delighted to work with NIMR, one of world's leading manufacturers of wheeled armoured vehicles," says Ntshepe. "There is a strong synergy between our companies and products and we are confident that we can, together, develop and improve the N35 to be among the best in its class."
The N35 – formerly known as the RG-35 – is an armoured vehicle with superior mine protection and combat capabilities and can be used in command, ambulance and recovery roles.
Ntshepe says the contract with NIMR follows on the awarding of several other contracts to Denel's landward defence business in recent months amounting to over R1 500m in total. These are
The OMC division, within Denel Vehicle Systems specialises in wheeled armoured and mine-protected vehicles, received a development contract for the N35 from NIMR.
A production contract for 24 RG-31 mobile mortar platform (MMP) vehicles.. The contract includes vehicle manufacture and technical support and will be delivered in the next 12 months.
Contracts from Armscor for maintenance of - and the supply of spares for both combat and support vehicles.
The Gear Ratio division, within Denel Vehicle Systems is working on a contract from NIMR for the assembly of driveline components.
A contract was also concluded with Steloy Castings for components used in the new Transnet electric locomotives.
Sergyi Way
10.11.2015


www.army-guide.com
Share...




Prominent presence in Poland for Denel
07.09.2017
More CASSPIRS Ready For Delivery To African Client
25.07.2017
Denel To Highlight Its Capabilities At Top Middle Eastern Defence Show
01.02.2017
First Batch Of Denel Vehicles Shipped To UAE Client
24.08.2016
LIW, a division of Denel (Pty) Ltd
Kentron (division of Denel (Pty) Ltd)
Somchem Division of Denel (Pty) Ltd
Swartklip - a division of Denel
Pretoria Metal Pressings a Division of Denel (Pty) Ltd. - PMP
Rheinmetall Denel Munition (Pty) Ltd - RDM
Discuss