Israeli Field Intelligence Corps testing new Advanced Observation Vehicle
Category: Army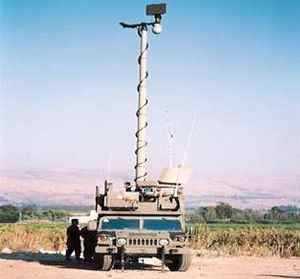 The Israeli Field Intelligence Corps are beginning operation experiments with a new observation vehicle. The vehicle is equipped with the most advanced data collecting tools in the IDF.
The Granite observation vehicle is expected to undergo operational experiment from the Field Intelligence Corps in the beginning of the year 2010. The Gaza Division unit tasked with collecting intelligence during combat will be making the military tests of the Granite vehicle.
The Granite, developed by Elta Group is expected to replace the Raccoon as the leading observation vehicle of the Field Intelligence Corps's for collecting intelligence during combat. The unit is also using two additional vehicles: the Agile designated for use in battalions that patrol Israelís borders and the Armored Personnel Carrier designed for transport of infantry units.
The new vehicle is expected to improve the observation abilities of the Field Intelligence Corps. The vehicle is based on the shield of the Caracal Vehicle that belongs to the Ford Motor Company. This enables the vehicle to be more secure, and thus allowing its passengers to join operations safely. Additionally, the Granite crew members can prepare the vehicle for observation without leaving the car; simply by pressing a button.
A Spider Camera installed in the Granite vehicle sends live data to zeppelins from the Field Intelligence Corps and other unmanned aerial vehicles. The Spider is considered the best continuous secure camera the IDF has in its arsenal. Moreover; a radar will be installed in the Granite will be far more advanced than the radar installed in the Raccoon. The new observation vehicle will be connected to a control and monitoring system that will enable communication with other Corps at an optimal level. The camera, radar, control and monitoring system will be operated by only one person, as apposed to the Raccoon where there is a person in charge of each system separately.
The human engineering invested in the new vehicle was meticulously planned, as well as matters of human comfort. The staff will constitute four fighters as apposed to five operating the Raccoon.
Arnon Ben-Dror
11.08.2009

Share...




Production of ALAN armored cars is in place in Kazakhstan
10.12.2017
Dutch CV90s to become first NATO combat vehicles to receive active protection
25.12.2016
Arotech Power Systems Division receives $8.5 million in new order from the Israel Ministry Of Defense
23.02.2016
Elbit Systems to Showcase a New Upgraded Version of the ATMOS 155mm/52 caliber Truck-Mounted Howitzer at Eurosatory 2014
29.05.2014
Israeli Ordnance Corps Workshops
Discuss