Preparing vehicles for Afghanistan in UK
Category: Army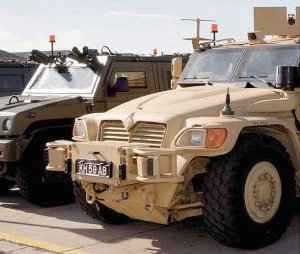 Often perceived as just a storage facility, the huge Army vehicle depot in Gloucestershire is actually where military vehicles, from tanks to quad bikes, are fully prepared for use in Afghanistan. Report by Richard Long.
With the operational tempo in Afghanistan quicker than ever, the need for fully-functional vehicles to support troops on the ground has never been greater.
Such a crucial role falls on the Defence Storage and Distribution Agency's Army vehicle depot in Ashchurch, a 272,000-square metre facility capable of holding everything from the mighty Challenger 2 battle tank to the comparatively lightweight quad bike trailer.
The vast site boasts row after row of hardware, with brand new Panthers, Jackals and Mastiffs among the huge inventory of wagons, trucks and support vehicles waiting to be deployed.
Such an array of resources could lead to the inevitable question as to why this fleet is stationed at a storage site in deepest Gloucestershire and not on the front line in Helmand province.
The answer is simple. In the commercial world a new car will roll off the production line, head to the showroom and find its way into the hands of a grateful owner, but for the Army the swift flow from factory to driver is not an option.
Lieutenant Colonel Robert Gascoigne, Royal Logistic Corps (RLC), who is responsible for Whole Fleet Management, explained:
"A lot of these vehicles are coming straight to us from industry and people often regard this place as a storage facility. It is a lot more than that.
"First of all we have to inspect the vehicles and conduct quality assessments - if anything is not right it goes back. If this equipment is going on operations it has to be fully working.
"We realise the soldiers want more than a vehicle. It has to be armoured, it has to be fitted with electronic countermeasures and Bowman radio, which needs to be tested and working.
"These things have to be brought together, it is all done here, and when these vehicles are delivered to Camp Bastion they are ready for the soldiers to jump in and go."
Personnel at Ashchurch have to juggle the demands of supporting operations with routine vehicle tasks but it is clear where their focus lies:
"Urgent Operational Requirements [UORs] are very much our main priority, it is work we take a great deal of pride in delivering," said Major Mark Wilson, RLC, the head of the DSDA establishment.
"We have never failed to meet a UOR deadline. All our projects are different but we look to turn a vehicle round in five days. However, it can be done overnight if needed."
Around 4,200 vehicles have been issued from the facility since October 2008, with more than 800 being sent out in support of operations.
Ashchurch has 25 military personnel working alongside a civilian staff of up to 180 people, all of whom are determined to deliver the best kit possible for soldiers on the ground.
Civilian mechanics inspect all new arrivals in assessments that exceed MOT standards. The companies who supply the Army's fleet also have a presence on site so any problems can be immediately addressed, rather than returning a vehicle to a factory hundreds of miles away:
"We do not hold things against them, that is why they have these facilities," explained Warrant Officer Class 2 Simon Gray, RLC, a vehicle specialist on the UOR programme.
"We ask them to develop a vehicle in 12 months and they are under pressure to deliver, but we understand there will be problems."
As well as priming new tanks, trucks and transport for theatre the site is also responsible for supplying vehicles for training purposes.
This relates to both future users and maintenance personnel who have the opportunity to familiarise themselves with the equipment on training areas such as Salisbury Plain.
Another question frequently thrown at the Army is why the hardware from operations in Iraq is not transferred directly to Afghanistan.
Ashchurch is responsible for housing returning kit and has recently received 900 vehicles that were used on Op TELIC.
Some may be in need of upgrades and improved armouring, given the differing nature of the conflicts in Iraq and Afghanistan, while others may have reached the end of their shelf life:
"It is a tired fleet," said Major Wilson.
"There were high demands on the vehicles in Iraq and they come back for a new lease of life before being passed on for operations or being disposed of.
"The IED [improvised explosive device] threat in Afghanistan is extremely high. While there was a threat on Op TELIC it was of a different nature and that contributes to the fact these vehicles cannot be shipped straight to Afghanistan."
This article is taken from the November 2009 edition of SOLDIER - Magazine of the British Army.
UK MoD
11.11.2009

Share...




Discuss