Oshkosh Defense Awarded $20 Million Contract to Supply Egypt With Heavy Equipment Transporters
Category: Contracts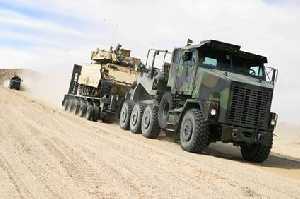 OSHKOSH, Wis. -- Oshkosh Defense, a division of Oshkosh Corporation, has received a contract with the U.S. Army Tank-automotive and Armaments Command Life Cycle Management Command (TACOM LCMC) to supply more than 40 new M1070 Heavy Equipment Transporters (HET) and 635NL trailers to Egypt.
The Oshkosh® HET is designed to rapidly transport M1A1 Main Battle Tanks, armored vehicles and self-propelled guns, as well as a six-person crew, so the vehicles and soldiers arrive in mission-ready condition.
In addition to spare parts, the contract, valued at $20 million, includes assistance from the Oshkosh team of Field Services Representatives (FSR) – factory-trained technicians who provide in-field support and enhance military mobility. The trailers will be co-produced at the Ministry of Military Production's Egyptian Tank Plant near Cairo, where the Oshkosh Medium Tactical Truck (MTT) also is co-produced.
"Providing militaries around the world with the best means of transport is something integral to our mission at Oshkosh Defense," said Andy Hove, Oshkosh Corporation executive vice president and president, Defense. "With its durability and mobility, the HET fulfills the Egyptian military's needs, and the support of our team of FSRs ensures the vehicles will continue to operate in optimal condition."
The HET is part of the company's line of international vehicles designed to meet a variety of logistical and operational needs around the world.
Oshkosh Defense
14.11.2009

Share...




Oshkosh Defense Receives Order for 248 Joint Light Tactical Vehicles
02.07.2020
Oshkosh Defense Receives $407.3 Million Order for Joint Light Tactical Vehicles
24.02.2020
Oshkosh Defense Exhibits JLTV Firepower at IDEX 2019
24.02.2019
Oshkosh FMTV A2 Makes Debut at Ausa 2018, Multiple JLTVS Command the Floor
14.10.2018
Discuss