Textron to Deliver 39 Armored Personnel Carriers to Colombia
Category: Contracts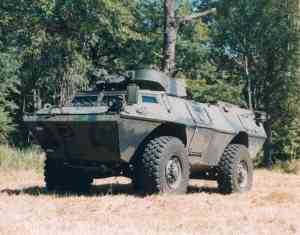 New Orleans -- Textron Marine & Land Systems, an operating unit of Textron Systems, a Textron Inc. company, has been selected by the Colombian Ministry of Defense to produce and deliver 39 Armored Personnel Carriers (APC) for the Colombian Army.
The Colombian Army's initial requirement for armored wheeled vehicles with associated logistics support will be contracted through the U.S. Army Foreign Military Sales process. The total value of this procurement is $45.6 million.
Textron Marine & Land Systems' armored personnel carrier is one of several armored wheeled vehicle configurations that it designs and produces. Textron Marine & Land Systems has designed and produced more than 2,400 Armored Security Vehicles (ASV) and APC vehicles for the U.S. Army, Iraq and Bulgaria. The armored personnel carrier that will be delivered to Colombia is equipped with a cupola mounted weapons station configured with either a .50 caliber machine gun or MK-19 40mm grenade launcher.
"Our ASV and family of vehicles have an impressive track record around the world and are vital to U.S. and coalition forces in Iraq and Afghanistan," said Textron Marine & Land Systems Senior Vice President and General Manager Tom Walmsley. "These vehicles will serve our Colombian allies well in the preservation of Colombia's peace and security."
The ASV and APC have maintained exceptional operational readiness and combat availability rates over more than five years of combat operations. Textron Marine & Land Systems has achieved more than 51 consecutive months of on-time delivery to the U.S. Army on the ASV program.
The ASV and APC are 4X4 wheeled armored vehicles that offer significant crew protection through the employment of multiple layers of armor, defending against small arms fire, artillery projectile fragments, Improvised Explosive Devices (IEDs) and land mines. These vehicles possess superior mobility, agility, handling and ride quality through the utilization of a four-wheel independent suspension system.
The ASV and APC vehicles perform a wide variety of missions including scout, infantry personnel carrier, reconnaissance, command and control and recovery. U.S. Army ASV missions include operations with the Military Police, convoy protection, perimeter security, as well as Field Artillery Combat Observation and Lasing Teams (COLT) with the M-1200 ASV configuration.
Textron Inc.
09.12.2009

Share...




Textron Systems Announces Plans to Acquire Robotics Innovator Howe & Howe Technologies
04.11.2018
Otokar participated in Expodefensa 2017
09.12.2017
Textron Systems Delivers First TAPV to the Canadian Army
30.08.2016
Textron Systems Awarded Contract to Provide an Additional 55 COMMANDO™ Select Armored Vehicles to Afghan National Army
04.10.2015
CIC International Ltd, Colombia Defence Corporation
FUERZAS MILITARES DE COLOMBIA EJERCITO NACIONAL
Textron Systems Maui Operations
M1117 Guardian (Reconnaissance Vehicle)
Discuss