Textron Completes Phase II ASV Reset Program
Category: Defence Industry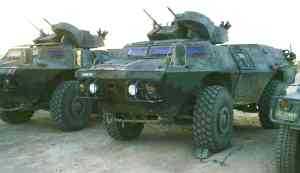 New Orleans, LA. -- Textron Marine & Land Systems, an operating unit of Textron Systems, a Textron Inc. company, today announced the successful completion of its Phase II Armored Security Vehicle (ASV) reset program with the United States Army Tank-automotive and Armaments Command (TACOM).
The Phase II contract to reset 12 M1117 ASVs was completed in 120 days at the company's Slidell, La. manufacturing facility and at a reduced cost per vehicle compared to the Phase I resets.
The reset process restores battle-damaged and worn vehicles to combat-ready condition. In addition to the reset of the vehicles, an objective achieved in Phase II of the program was to establish manufacturing processes to enable the implementation of a future full-rate reset program.
"We made significant cost improvements with this Phase II reset contract, in spite of the fact that 10 of the 12 vehicles inducted into the program had suffered structural damage," said Textron Marine & Land Systems General Manager Tom Walmsley. "We took full advantage of our experienced Original Equipment Manufacturer (OEM) team, supply chain excellence, process improvement initiatives, facilities and tooling to streamline the ASV reset process and get these vehicles back into the hands of the warfighter as quickly and efficiently as possible."
Textron Marine & Land Systems is currently working with M1200 Armored Knight prime contractor DRS Sustainment Systems Inc. for the ongoing Armored Knight reset program. The Armored Knight is a derivative of the ASV outfitted with a laser targeting system for the U.S. Army Field Artillery Combat Observation and Lasing Teams (COLT).
"We look forward to the opportunity to continue this reset program with additional ASV and Armored Knight vehicles in the near future," said Walmsley. "The ASV has proven itself in numerous combat missions as a versatile platform providing exceptional protection, mobility and reliability."
Textron
26.03.2010

Share...




Textron Systems Announces Plans to Acquire Robotics Innovator Howe & Howe Technologies
04.11.2018
Textron Systems Delivers First TAPV to the Canadian Army
30.08.2016
WFEL extends US Army contract with £30m upgrade deal
21.07.2016
Alcoa Awarded up to $50 M from US Army to Advance Combat Vehicles
04.03.2016
US Army Tank-automative & Armaments Command (TACOM)
Textron Systems Maui Operations
M1117 Guardian (Reconnaissance Vehicle)
Discuss