Harris Corporation Awarded $6 Million Order to Provide Falcon III Multiband Networking Radios to African Nation
Category: Defence Industry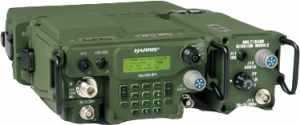 PARIS -- Harris Corporation, an international communications and information technology company, has received a $6 million order to supply an African nation with Falcon III® RF-7800M multiband networking radios, universal remote controls and other tactical communications equipment.
The field-proven RF-7800M is a wideband tactical radio that provides warfighters with unprecedented situational awareness of the battlefield through wireless, high-bandwidth networked communications. The radio enables applications such as streaming video, simultaneous voice and data feeds, collaborative chat and connectivity to secure networks, delivering critical real-time information to the battlefield in a small, lightweight man-portable radio.
In addition, Harris is also providing the African nation with the Falcon II RF-5800H high-frequency radio. The RF-5800H provides secure beyond-line-of-sight radio communications in the most demanding battlefield environments. The radio features Third Generation-Automatic Link Establishment (3G-ALE), integrated data link protocols and embedded GPS receivers. The RF-5800H offers secure interoperability with the Harris AN/PRC-150(C) radio, which is widely deployed with U.S. and NATO forces operating in Afghanistan.
Harris RF Communications is the leading global supplier of secure radio communications and embedded high-grade encryption solutions for military, government and commercial organizations. The company's Falcon family of software-defined tactical radio systems encompasses manpack, handheld and vehicular applications. Falcon III is the next generation of radios supporting the U.S. military's Joint Tactical Radio System (JTRS) requirements, as well as network-centric operations worldwide. Harris RF Communications is also a leading supplier of assured communications® systems and equipment for public safety, utility and transportation markets — with products ranging from the most advanced IP voice and data networks to portable and mobile single- and multiband radios.
Harris
17.06.2010

Share...




General Dynamics Land Systems–UK showcases adaptable Foxhound vehicle at DSEI 2019
23.09.2019
UK Army Robotics Receive GBP66 M Boost
07.03.2019
Triple-digit million euro contract for Rheinmetall
14.10.2018
The Finnish army is testing a new MiSu armored vehicle
15.12.2017
Falcon II RF-5800H-MP (Radio station)
Falcon II RF-5800V-MP (VHF radio set)
Falcon II RF-5800V-PR (Power Unit)
Discuss