U.S. Army Acquires First Next-Generation Cargo Vehicles from Oshkosh Defense
Category: Contracts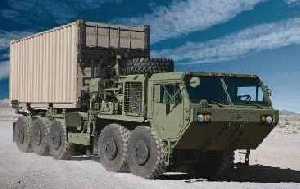 OSHKOSH, Wis. -- Oshkosh Defense, a division of Oshkosh Corporation, has delivered its first next-generation Palletized Load Systems (PLS) to the U.S. Army. The new PLS model, known as the PLS A1, features design improvements creating a more secure and robust vehicle for logistics missions that face increased combat exposure.
"Working closely with our Army customer, Oshkosh has improved the PLS to provide our troops increased protection and mobility demanded in today's critical distribution and resupply missions," said Mike Ivy, vice president and general manager of Army Programs for Oshkosh Defense. "The military can only move as fast as its supplies. Improved armor, common with the proven armor solution on the HEMTT A4, and enhanced off-road capabilities will better protect logistics missions from blasts and other threats. PLS A1 updates make a good truck even better and will secure the vehicle's role in Army logistics operations for many years to come."
The vehicle, developed to load and unload a variety of heavy-payload cargo, now features a Long Term Armor Strategy (LTAS)-compliant cab, a 600-horsepower engine and a six-speed transmission. It also uses the Oshkosh-patented TAK-4® independent suspension on the front axle positions, which provides greater off-road mobility and enhances protection in harsh terrain, like Afghanistan.
The initial deliveries of 11 vehicles are part of an order for more than 725 PLS vehicles issued under the U.S. Army's existing Family of Heavy Tactical Vehicles (FHTV) contract. Production for this order is scheduled to be completed in September 2011.
The PLS is the backbone of the Army's distribution and resupply system. Built to carry ammunition and other critical supplies needed in battle, the PLS has proven its ability in front-line resupply missions in Bosnia, Kosovo, Iraq and Afghanistan. Together, the PLS truck and trailer form a complete system that reduces the need for forklifts or other material-handling equipment. They both carry a demountable cargo bed, also known as a flatrack, which features a 16.5-ton payload capacity. The PLS is a part of the Army's Family of Heavy Tactical Vehicles (FHTV), produced by Oshkosh, which also includes the Heavy Expanded Mobility Tactical Truck (HEMTT A4) and the Heavy Equipment Transporter (HET A1) . Oshkosh works with armed forces to deliver world-class vehicles that are built to withstand harsh combat conditions and overcome challenging terrain.
Oshkosh
18.08.2010

Share...




Oshkosh Defense Receives Order for 248 Joint Light Tactical Vehicles
02.07.2020
Oshkosh Defense Receives $407.3 Million Order for Joint Light Tactical Vehicles
24.02.2020
Oshkosh Defense Exhibits JLTV Firepower at IDEX 2019
24.02.2019
Oshkosh FMTV A2 Makes Debut at Ausa 2018, Multiple JLTVS Command the Floor
14.10.2018
Discuss