Tenix and Bofors Team up for ADF Artillery Upgrade
Category: Defence Industry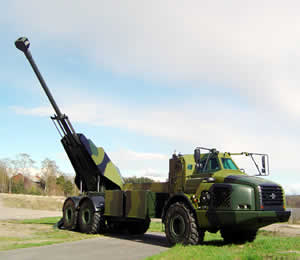 Tenix Defence has teamed up with Swedish company Bofors Defence AB to supply the Australian Defence Force with a new artillery system. The ADF is seeking tenders under the Land 17 Artillery Replacement Project for an indirect fire support system to succeed its 105mm Hamel Howitzer and 155mm M198 Howitzer fleet from 2008-10.
Tenix Defence and Bofors will offer the ADF with two options:
The Archer solution: a self-propelled 155mm L52 automatic howitzer incorporated into a modified armoured commercial six-wheel-drive (6x6) articulated Volvo A30D truck chassis.
A long range towed artillery system based on the FH77B05 platform that has consistently performed exceptionally well during recent tests by the Indian Army.
Australian-owned Tenix Defence will work closely with Bofors Defence in the integration of the howitzer with the chassis, and ensure the Volvo articulated hauler chassis meets Australian requirements and has the desired level of protection.
Tenix Defence will also develop training packages and provide maintenance and repair, testing and evaluation.
Tenix Defence will conduct as much of the work as possible in Australia, where it already employs 3,500 people.
Bofors will provide the 155mm/52-calibre FH-77 BW L52 Archer self-propelled howitzer. Other parties involved are CJD (chassis); Kongsberg (artillery C2 and fire control system); Nammo (conventional ammunition manufacture) and CITS (simulation and training).
The Archer is a complete artillery system. It is unrivaled in all terrain mobillity and fire power and has a sophisticated 'shoot and scoot' capability, onboard ammunition and multi round simultaneous impact (MRSI) capability. It is operated by a crew of three and requires fewer resources to execute and maintain its capabillity.
Personnel remain protected and effective inside the cab throughout deployment, acquisition, firing and redeployment.
Archer marries a proven artilley system with an off-the-shelf chassis to provide a sophisticated solution that fits within the Hardnened Network Army concept.
Tenix Defence, CEO, Robert Salteri, said the company was very excited about teaming with Bofors Defence, which it saw as another opportunity to invest in Australian industry.
"Tenix Defence is confident that the Archer system meets all the ADF fuctional specification requirements and is the most practical and cost effeictive solution for the ADF upgrade" Mr Salteri said".
"Tenix Defence is a major player in the Australian defence industy and we believe that this partnership will continue to enhance Tenix's industy reputation across the Land and Electronics divisions."
Mr Salteri said words that describe great Olympic archers – "sophisticated, skillful and precise" – also applied to the Tenix – Bofors Archer system.
Bofors
04.07.2005

Share...




BAE Systems to deliver vehicle mounted mortar systems to Swedish Army
25.12.2016
Safran Electronics & Defense unveils new Sigma 30 range of artillery navigation and pointing systems
16.06.2016
BAE Awarded Contract to Refurbish CV90 Vehicles for Sweden
01.04.2016
BAE Delivers ARCHER Artillery System to Sweden
30.09.2015
Tenix Defence Systems Pty Ltd.
Tenix Defence Pty Ltd, Marine Division WA
Archer (Self-propelled howitzer)
Discuss