Boeing and iRobot Team Receives SUGV Contract from USAF
Category: Robots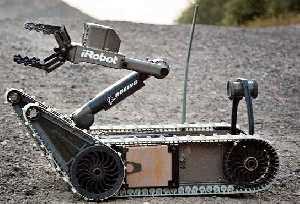 Huntsville, Ala. -- The Boeing Company and partner iRobot Corp. today announced that they have received an initial contract with the U.S. Air Force to provide Small Unmanned Ground Vehicles (SUGV) to its Explosive Ordnance Disposal (EOD) team. The contract calls for up to 70 model 310 SUGV robots, with an initial value of $3.84 million.
The Indefinite Delivery, Indefinite Quantity contract will run through September 2012.
"Boeing and iRobot are pleased to expand our customer base to the U.S. Air Force, placing this key technology into the hands of airmen around the world," said Bob DaLee, Robotics program manager, Boeing Network & Tactical Systems. "The 310 SUGV system will provide the Air Force with the capability that our current customers have come to rely on in dealing with dangerous situations in war zones."
"Robots like the 310 SUGV have already proven their worth on today's battlefield," said Robert Moses, president of iRobot's Government and Industrial division. "Every day, the military is finding new ways to implement this game-changing technology, all in an effort to increase mission success and keep warfighters safe."
Boeing
13.10.2010

Share...




After rigorous field testing, Germany takes delivery of 44 FirstLook Robots that are used by military and law enforcement worldwide
30.11.2017
Oshkosh Defense Showcases JLTV Vehicles With Next Generation Weapon Integration Capabilities At AUSA 2017
10.10.2017
Endeavor Robotics Has Received An Order To Deliver 32 Man Poetable Small Unmanned Ground Vehicles (SUGVs) To The United States Armed Forces
14.08.2017
iRobot Announces Sale of Defense & Security Business to Arlington Capital Partners
05.02.2016
Boeing Integrated Defense Systems
310 SUGV (Robot, Unmanned Vehicle)
Discuss