iRobot Announces $7.6 million SUGV Order from the U.S. Army
Category: Contracts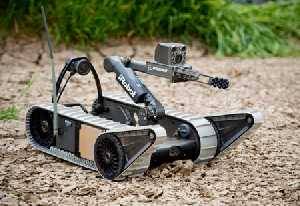 BEDFORD, Mass. -- iRobot Corp., a leader in delivering robotic technology-based solutions, has received a $7.6 million order from the U.S. Army Contracting Command-Warren, Michigan, for 50 of its 310 SUGV (Small Unmanned Ground Vehicle) tactical mobile robots and spare parts.
The order was issued under a new indefinite delivery/indefinite quantity contract that allows for an initial delivery of 50 robots.
310 SUGV gathers situational awareness in dangerous conditions while keeping warfighters out of harm's way. The robotic system weighs about 35 pounds, making it ideal for dismounted mobile operations. While 310 SUGV has been used in theater primarily by explosive ordnance disposal teams, the robots in this order will also be used by combat engineers and Marines.
"310 SUGV has proven its worth as a man-portable, rugged and easy-to-use robot. As a result of ongoing positive user feedback and its success on the battlefield, 310 SUGV will now be used to perform an even wider variety of missions," said Robert Moses, president of iRobot's Government and Industrial Robots division. "iRobot is honored to provide more of these life-saving robots for our troops."
iRobot and Boeing developed the SUGV family of vehicles under a strategic alliance that began in 2007.
iRobot
21.04.2011

Share...




After rigorous field testing, Germany takes delivery of 44 FirstLook Robots that are used by military and law enforcement worldwide
30.11.2017
Oshkosh Defense Showcases JLTV Vehicles With Next Generation Weapon Integration Capabilities At AUSA 2017
10.10.2017
Endeavor Robotics Has Received An Order To Deliver 32 Man Poetable Small Unmanned Ground Vehicles (SUGVs) To The United States Armed Forces
14.08.2017
iRobot Announces Sale of Defense & Security Business to Arlington Capital Partners
05.02.2016
Boeing Integrated Defense Systems
310 SUGV (Robot, Unmanned Vehicle)
Discuss