JSC Plant Leninskaya Kuznitsa Starts Production Of UAG-40 Automatic Grenade Launcher
Category: Defence Industry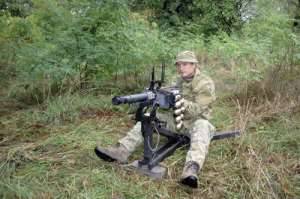 Ukraine, Kyiv -- Leninskaya Kuznitsa UAG-40 Automatic grenade launcher (AGL) shoots for the distance of over 2000 meters. It is an effective armory against the enemy, thin-skinned equipment and against protective shelter.
UAG–40 is the first portable automatic grenade launcher. UAG - 40 reposes on the tripod before shooting. The total weight of the grenade launcher with tripod is less than 30 kilograms. Tripod's design allows spewing shells from unprepared sites.
High level of portability and no need to prepare operating site allows quick change of firing position both in the open air and in an urban environment. Using UAG-40 can be resulted with flame efficiency of ground campaign.
Sergyi Way
03.07.2011


www.army-guide.com
Share...




Rheinmetall Presents Next Gen "Wiesel Wingman" solution for Robotic Combat Vehicle – Light at AUSA 2019
04.11.2019
AKREP II electric armored vehicle presented in Turkey
25.04.2019
Nerekhta multifunctional UGV on the State tests
05.02.2019
The Nerehta Combat Unmanned Ground Vehicle is ready to be adopted by the Russian army
04.07.2018
Discuss