GD to Supply 33 Light Armored Vehicles to USMC
Category: Contracts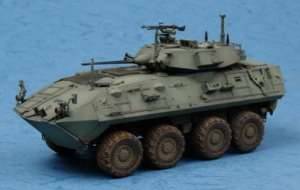 London, Ontario, Canada -- General Dynamics Land Systems-Canada has been awarded a $42 million contract to produce 33 Light Armored Vehicles (LAV-A2) in various configurations for the United States Marine Corps. General Dynamics Land Systems, the Canadian company's parent corporation, is a business unit of General Dynamics.
The LAV-A2 is a mobile, agile and survivable system for conducting offensive and defensive operations in support of the Marine Air-Ground Task Force. The eight-wheeled amphibious vehicle is equipped with enhanced armor protection and an automatic fire-suppression system for crew protection, as well as a robust suspension for mobility.
Vehicle production will be performed at the General Dynamics Land Systems-Canada operations in London, Ontario, and will be completed by December 2012. In total, 240 LAV-A2 vehicles have been ordered by the Marine Corps since 2007. Nearly 800 units of an earlier version of the Light Armored Vehicle entered service with the Marine Corps in the 1980s and continue operational deployment today.
The contract was awarded through the Canadian Commercial Corporation, a Crown Agency of the Canadian Government.
General Dynamics
03.08.2011

Share...




KONGSBERG CONCLUDES A $ 54 MILLION CONTRACT FOR THE DELIVERY WEAPON STATIONS TO CANADIAN ARMY
05.06.2020
Germany awards 159 MUSD vehicle contract to GDELS
24.04.2020
Switzerland awards contract to General Dynamics European Land Systems- Mowag to deliver 100 EAGLE 6x6 reconnaissance vehicles
06.12.2019
General Dynamics Land Systems–UK showcases adaptable Foxhound vehicle at DSEI 2019
23.09.2019
General Dynamics Land Systems - GDLS
General Dynamics Ordnance and Tactical Systems
General Dynamics European Land Systems-Mowag GmbH
General Dynamics Santa Barbara Sistemas
General Dynamics Armament Systems
General Dynamics Defence Systems
General Dynamics European Land Systems-Steyr GmbH
General Dynamics Armament and Technical Products (GDATP)
General Dynamics Amphibious Operations - GDAMS
General Dynamics Corp., Advanced Information Systems
General Dynamics Robotic Systems - GDRS
General Dynamics Land Systems - GDLS - Canada
General Dynamics European Land Systems - GDELS
Discuss