Textron TAPV Team Submits Tactical Armoured Patrol Vehicle Proposal
Category: Defence Industry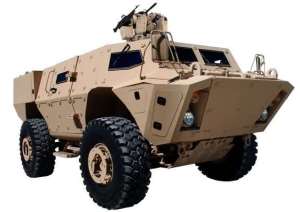 OTTAWA, Canada -- Textron Systems Canada Inc., a Textron Inc. company, announced today that it has submitted its proposal for the Canadian Forces Tactical Armoured Patrol Vehicle (TAPV) program.
The Textron TAPV Team, led by Textron Systems Canada, includes Textron Marine & Land Systems and Rheinmetall Canada. Additional key Canadian suppliers include: Kongsberg Protech Systems Canada, a subcontractor to Rheinmetall Canada for the Remote Weapons Systems; and Engineering Office Deisenroth Canada (EODC), a subcontractor direct to Textron Systems Canada for add-on armour.
A contract for the TAPV program to procure 500 vehicles, with an option for up to 100 more, is expected to be awarded in early 2012.
"The Textron TAPV Team is pleased to be offering a 4 by 4 armoured vehicle that will provide the Canadian Forces with an unmatched blend of survivability, protection, power, mobility and versatility," said Neil Rutter, general manager of Textron Systems Canada. "We also have submitted a comprehensive Industrial and Regional Benefits plan that effectively engages Canadian companies from coast to coast, provides jobs to Canadians, and provides substantial Canadian content in each vehicle."
Textron's proposed TAPV, specifically engineered to meet Canadian Forces requirements, draws on Textron Marine & Land Systems' more than 45 years of experience in the design and production of armoured vehicles. Building from the combat-tested Armored Security Vehicle platform, Textron's TAPV has undergone five years of extensive research and development. The result is a technology readiness level (TRL) 8 vehicle, designed to deliver outstanding performance and sustainability for a broad spectrum of operations in the world's most challenging environments.
If awarded the TAPV project, Ottawa-based Textron Systems Canada, as prime contractor, will provide overall program and configuration management, act as the design authority for change management, coordinate vehicle integration activities by Canadian subcontractors, manage the 25-year In-Service Support contract, and execute the Industrial and Regional Benefits program.
Rheinmetall Canada (www.rheinmetall.ca), at its facilities in Saint-Jean-sur-Richelieu and Ottawa, will perform multiple integration functions and final vehicle assembly to include the remote weapons station and government furnished equipment, and play a large role in the program's long-term system support.
Kongsberg Protech Systems Canada (www.kongsberg.com/en/KPS) will provide its Remote Weapon Station (RWS) for the Textron TAPV vehicle through a subcontract with Rheinmetall Canada. Kongsberg would be responsible for assembly, testing, and delivery of its RWS for the TAPV program, using its production facility in London, Ontario.
EODC (www.eodc.ca), an IBD-owned Canadian company based in Ottawa, is offering IBD's fourth-generation Advanced Modular Armour Protection (AMAP) technology in support of the Textron TAPV. This newest ballistic protection technology includes the use of nano-ceramics and nano-steels to provide enhanced vehicle survivability at lower weight levels.
Textron Systems Canada brings the broad capabilities of Textron Systems' operating units to Canadian customers. The company is currently focused on the Canadian Forces' Tactical Armoured Patrol Vehicle program. More information is available at www.textronsystems.ca and www.textrontapv.ca.
Textron
07.09.2011

Share...




Rheinmetall MAN Survivor R special protected vehicle on show at GPEC 2020 international security exhibition in Frankfurt/Main
24.02.2020
Rheinmetall books ˆ110 million-contract to extend the service life of the Marder infantry fighting vehicle for the Bundeswehr
21.01.2020
Rheinmetall to Feature Next Generation 130mm Tank Gun at AUSA Global
04.11.2019
Rheinmetall Presents Next Gen "Wiesel Wingman" solution for Robotic Combat Vehicle – Light at AUSA 2019
04.11.2019
Rheinmetall MAN Military Vehicles GmbH - RMMV
Rheinmetall Verseidag Ballistic Protection GmbH
Rheinmetall Soldier Electronics GmbH
Textron Systems Maui Operations
Rheinmetall AG, Representative Office Abu Dhabi
Rheinmetall Waffe Munition GmbH
Rheinmetall Defence Electronics GmbH
Rheinmetall Waffe Munition Arges GmbH
American Rheinmetall Munitions, Inc. - ARM
Rheinmetall Denel Munition (Pty) Ltd - RDM
Discuss