U.S. Army Awards Bridge Contract to Oshkosh Defense for Heavy Vehicle Fleet
Category: Defence Industry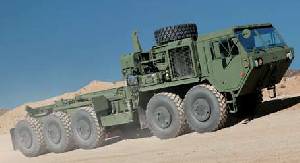 OSHKOSH, Wis. -- The U.S. Army has awarded Oshkosh Defense, a division of Oshkosh Corporation, a bridge contract to continue production and support of the Family of Heavy Tactical Vehicles (FHTV). Under this extended contract, the government can place orders through October 2013 and Oshkosh Defense can deliver through September 2014. The first order under the bridge contract was awarded on Dec. 21, 2011.
The Oshkosh FHTV includes the Heavy Expanded Mobility Tactical Truck (HEMTT), Heavy Equipment Transporter (HET) and Palletized Load System (PLS). Army and National Guard soldiers have relied on these vehicles in Iraq and Afghanistan, and in other missions around the world, to safely haul heavy payloads in challenging terrain and extreme conditions.
"The FHTV's proven performance, particularly during its extensive use in two operational theaters during the last 10 years, has enabled successful logistics operations while protecting soldiers," said Mike Ivy, vice president and general manager of Army Programs for Oshkosh Defense. "The success of the FHTV program is the result of close and continuous collaboration with our Army customer. We appreciate the opportunity to insert the latest automotive and survivability technologies into these trucks and to join soldiers, first in Iraq and now in Afghanistan, sustaining fleets in the most demanding circumstances."
The HEMTT A4 is the backbone of the Army's logistics and resupply fleet. It has a 13-ton payload capacity and is available in multiple variants for a wide range of operations. The PLS supports the Army's distribution and resupply system, transporting ammunition and other critical supplies needed in battle. The HET is designed to rapidly transport battle tanks, fighting and recovery vehicles, armored vehicles, and construction equipment, as well as their crews, so they arrive in mission-ready condition.
Oshkosh has been producing heavy-payload vehicles for the Army for more than 35 years, beginning with the HET M911 in 1976. The latest configurations of the FHTV vehicles include air-conditioned and armor-ready cabs, electrical upgrades, and anti-lock braking to keep soldiers safe and on the move in severe environments. Oshkosh most recently worked with the Army to develop and begin producing underbody improvement kits for FHTV trucks. These kits provide enhanced protection against ever-evolving improvised explosive device (IED) threats.
To date, Oshkosh has produced more than 58,000 FHTV trucks and trailers for the Army. Oshkosh also has remanufactured more than 11,000 FHTV trucks, delivering the vehicles in zero-miles / zero-hours condition for significantly less than the cost of a new vehicle.
The first order under the FHTV bridge contract includes more than 20 HEMTT Light Equipment Transporters (LET), more than 10 PLS A1 trucks and more than 10 PLS A1 trailers. The order is valued at more than $11 million. Work under the order is scheduled to be completed in December 2013.
Oshkosh
19.01.2012

Share...




Oshkosh Defense Receives Order for 248 Joint Light Tactical Vehicles
02.07.2020
Oshkosh Defense Receives $407.3 Million Order for Joint Light Tactical Vehicles
24.02.2020
Oshkosh Defense Exhibits JLTV Firepower at IDEX 2019
24.02.2019
Oshkosh FMTV A2 Makes Debut at Ausa 2018, Multiple JLTVS Command the Floor
14.10.2018
Discuss