Announcing New Licensing Agreement For Rotary Engine Technology
Category: Future Technologies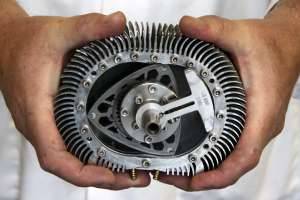 READING, PA -- Fidelity Technologies Corporation, a defense contractor headquartered in Reading, Pennsylvania, and British engine maker Cubewano LTD have agreed to an exclusive licensing agreement covering the North American defense market. Company officials announced the partnership which will further solidify Fidelity as a formidable manufacturer of defense product solutions.
The licensing agreement will enable Fidelity to utilize Cubewano LTD's proprietary rotary engine technology in the Department of Defense market for tactical power generation applications where high power density and multi-fuel capabilities are a priority to the warfighter. Cubewano's rotary engines are among the smallest, most powerful and reliable rotary engines available in the world.
According to David Gulati, Fidelity President, "Our alliance with Cubewano LTD is strategic and aligns perfectly with the mission of our Military and Aerospace Manufacturing Division to expand Fidelity's market share within the defense industry by providing unique capabilities to manufacture defense products with the smallest footprint available in today's market.
It further demonstrates Fidelity's commitment to the ever evolving requirements of the warfighter. As increased power demands continue to emerge in the battlefield from individual soldier power requirements to vehicle and unmanned applications, Fidelity will effectively lighten the load as a result of our collaboration with Cubewano."
Craig Fletcher, founder and CEO of Cubewano said, "Our engines were originally created and perfected for use in unmanned aerial vehicles (UAVs), which led us to win a contract to supply the US Army's Class 1 Increment 2 program. We realized that the core technology would suit lightweight power generation applications, especially in the defense sector.
"A platoon currently carries up to 11 battery types weighing up to 436lbs for a 72 hour mission, as current generators running on heavy fuel are too heavy for one person to carry. This partnership will allow Fidelity to bring a product to market which solves that problem, running on military-standard JP8 fuel. We expect demand to be significant, as this will be a unique proposition which no other manufacturer can offer."
The Fidelity and Cubewano cooperative efforts will debut at the Association of the United States Army (AUSA) Annual Meeting, October 22-24, 2012 in Washington, DC (Booth #4245). Fidelity will feature the 1kW Lightweight Man Portable Generator (LMPG) system integrated with the Cubewano LTD rotary engine. This system, only weighting 39lbs., is the first to enter the soldier power market as a true multi-fuel system built to withstand the rigors of military standards. Manufacturing of the 1kW LMPG will occur at Fidelity's Reading, Pennsylvania facilities.
About Fidelity Technologies Corporation
Founded in 1987 as a contract manufacturer for the U.S. Department of Defense, Fidelity Technologies Corporation, headquartered in Reading, Pennsylvania, is an independent, privately-owned defense contractor. By the early 1990's, Fidelity revolutionized its business by developing and adding core competencies that would pave the way for future growth. Since 2008, Fidelity has manufactured man-portable power related equipment for the US Army. In response to the ever changing requirements of the customer, Fidelity is constantly expanding its expertise and capabilities to provide innovative solutions that directly address the needs of the warfighter.
About Cubewano LTD
Cubewano, based near Birmingham in the United Kingdom, designs, develops, tests and manufactures small, high quality internal combustion engines. The range of rotary Wankel engines provide high power to weight ratio. All engines are designed to be light, quiet with very low vibration, running on multiple fuels including heavy fuel (JP8).
All Cubewano engines are fuel injected with electronic engine management to maximise power, fuel efficiency, reliability and emissions requirements. All engines are developed with field requirements in mind. Cubewano has developed, manufactured and tested engines with power ranging from 3hp to 16hp in both air and liquid cooled variants.
Fidelity Technologies
25.10.2012

Share...




SAAB AND THE UK'S MINISTRY OF DEFENCE SIGN CONTRACT EXTENSION
21.08.2017
Patria introduces new technology at IDEX 2017
06.02.2017
Terrier Demonstrating Innovation in Military Vehicles at DSEI
10.09.2013
Fidelity Wins $176 M Manufacturing Contract from US Army
16.08.2012
Fidelity Technologies Corporation
Discuss