AutoKrAZ to Unveil New Armored Vehicle at IDEX 2013
Category: Exhibitions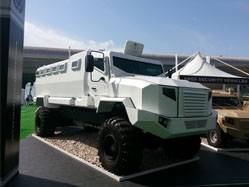 PJSC AutoKrAZ in partnership with Ares Security Vehicles LLC (United Arab Emirates, Dubai), manufacturer of high quality armored vehicles, will participate in IDEX-2013, held February 17-23 in Abu-Dhabi (UAE).
The product for display will be the KrAZ-ASV/APC/2013 armored personnel carrier built on a base of the 4x4 KrAZ-5233HE chassis cab.
Acronym KrAZ-ASV consists of the names of cooperating companies. APC marking (Armored Personal Carrier) defines the family and armored vehicle purpose.
All-wheel drive vehicle is provided with powerful diesel engine. Protection level STANAG 4569 – level 2 and 3 kinetic energy and blast threat respectively.
This multirole vehicle is used for carrying personnel of military units and their fire support, it is provided with state-of-the-art weapon systems, active and passive protection systems.
APC demilitarized version can be used for carrying personnel of peace-support missions and other persons in conflict zones.
First orders for supply of KRAZ-ASV/APC/2013 vehicle have been placed long time ahead of displaying it at the exhibition.
KrAZ delegation invites all the partners to come and have a look at this vehicle on stand No CP-212 National Exhibition Centre, Abu-Dhabi.
AutoKrAZ
20.02.2013

Share...




Oshkosh Defense Exhibits JLTV Firepower at IDEX 2019
24.02.2019
AM General Debuts Multi-Purpose Truck Concept at IDEX 2017
26.02.2017
Otokar is now closer to its users in the Gulf Region
25.02.2017
The CZECHOSLOVAK GROUP holding and TATRA TRUCKS truck maker will attend the IDEX 2017 defense exhibition
25.02.2017
IDEX Foreign Trading, Contracting and Engineering Co Ltd
Ares Security Vehicles LLC - ASV
ARES (Commander's sighting system)
Discuss