General Dynamics Land Systems-Canada Awarded $287 Million by the Government of Canada for LAV Reconnaissance Surveillance System Upgrade
Category: Contracts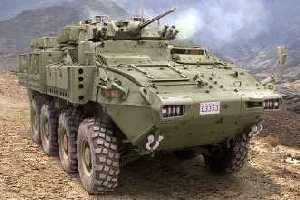 LONDON, Ontario – The Honourable Diane Finley, Minister of Public Works and Government Services, announced today that the Government of Canada has awarded a CDN$287 million contract to General Dynamics Land Systems-Canada for the provision and integration of an enhanced surveillance suite on to Canadian LAV III Upgrade vehicles, known as LAV 6.0.
The upgraded surveillance system will include a 10-meter retractable mast, an Operator Control Station and a surveillance suite inclusive of radar, thermal/day and image intensification sights, laser range finder and GPS mounted on a stabilized platform. These enhancements will allow for superior detection ranges, on-the-move operation, integrated silent watch power management and the transmission of images through the communications system.
"General Dynamics Land Systems-Canada continues their 37 year partnership with the Government of Canada," said Danny Deep, vice president of General Dynamics Land Systems-Canada. "More than 20 years ago, we designed and delivered to the Canadian Army the Coyote vehicle which at the time was the best reconnaissance/surveillance vehicle in the world. We are now privileged to deliver the next generation of advanced surveillance capability to the Canadian soldier."
Deliveries of LAV 6.0 vehicles equipped with the upgraded surveillance suite will commence in December 2016.
General Dynamics
15.11.2014

Share...




KONGSBERG CONCLUDES A $ 54 MILLION CONTRACT FOR THE DELIVERY WEAPON STATIONS TO CANADIAN ARMY
05.06.2020
Germany awards 159 MUSD vehicle contract to GDELS
24.04.2020
Switzerland awards contract to General Dynamics European Land Systems- Mowag to deliver 100 EAGLE 6x6 reconnaissance vehicles
06.12.2019
General Dynamics Land Systems–UK showcases adaptable Foxhound vehicle at DSEI 2019
23.09.2019
General Dynamics Land Systems - GDLS
General Dynamics Ordnance and Tactical Systems
General Dynamics European Land Systems-Mowag GmbH
General Dynamics Santa Barbara Sistemas
General Dynamics Armament Systems
General Dynamics Defence Systems
General Dynamics European Land Systems-Steyr GmbH
General Dynamics Armament and Technical Products (GDATP)
General Dynamics Amphibious Operations - GDAMS
General Dynamics Corp., Advanced Information Systems
General Dynamics Robotic Systems - GDRS
General Dynamics Land Systems - GDLS - Canada
General Dynamics European Land Systems - GDELS
Discuss