Oshkosh Defense Unveils M-ATV 6×6 and Advanced Driver Assist Systems at AUSA
Category: Defence Industry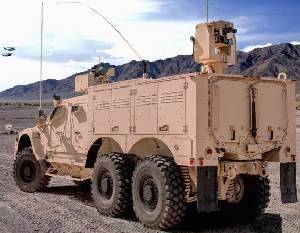 OSHKOSH, Wis. -- Oshkosh Defense, LLC, an Oshkosh Corporation company, is unveiling the Oshkosh® MRAP All-Terrain Vehicle (M-ATV) 6×6 Technology Demonstrator, at AUSA in Washington, D.C. October 12-14, 2015. The M-ATV 6×6 Technology Demonstrator builds upon the protection and off-road mobility performance of the battle-proven M-ATVs, while providing more interior volume for up to 15 soldiers, as well as greater payload capacity and all-wheel steer for exceptional maneuverability.
"It's never been more important for troops to have vehicles that effectively balance protection, payload, modularity and mobility to carry out missions in any environment or threat level," said U.S. Army Major General (Retired) John M. Urias, executive vice president of Oshkosh Corporation and president of Oshkosh Defense. "The M-ATV 6×6 Technology Demonstrator was developed to transport a full squad with their required mission equipment and provide more power on the battlefield – all while maintaining MRAP level protection and off-road mobility."
The Oshkosh M-ATV 6×6 Technology Demonstrator is multi-mission ready, allowing crews – whose roles may rapidly change – to have the right vehicle to perform that mission. The combined benefits from the TAK-4® independent suspension and the M-ATV 6×6's all wheel steer enables maneuverability across any type of terrain on the modern battlefield.
Oshkosh Introduces New Advanced Driver Assist Systems
At AUSA, Oshkosh is also introducing the Advanced Driver Assist Systems (ADAS) kits for any vehicle platform to help troops operate their vehicles safely in harsh conditions and difficult terrain. The Oshkosh ADAS kits use intelligent technologies to help increase driver control and response – during both peacetime and combat operations. The Oshkosh ADAS has three levels of performance:
ADAS Tier 1: A camera-based technology that allows the vehicle to see where drivers cannot. Active alerts enhance driver awareness to mitigate collisions.
ADAS Tier 2: Electronic Stability Control kit and radar-based technologies assist drivers with an additional layer of active safety. Tier 2 includes Adaptive Cruise Control (ACC) to maintain a following gap with a lead vehicle and Collision Mitigation Braking (CMB) to help slow the vehicle if a crash is imminent.
ADAS Tier 3: Equips drivers with comprehensive technologies for accident avoidance. Tier 3 combines all of the technologies from Tier 1 & Tier 2, making it Oshkosh's most comprehensive safety solution.
The winning JLTV solution from Oshkosh, M-ATV 6×6 Technology Demonstrator and Global Integrated Product Support (GIPS) kiosk will be showcased on the second floor at AUSA in the Oshkosh Defense booth #6643. Oshkosh Defense leadership will be available to discuss the company's vehicles, technologies and services.
Sergyi Way
13.10.2015


www.army-guide.com
Share...




Oshkosh Defense Receives Order for 248 Joint Light Tactical Vehicles
02.07.2020
Oshkosh Defense Receives $407.3 Million Order for Joint Light Tactical Vehicles
24.02.2020
Oshkosh Defense Exhibits JLTV Firepower at IDEX 2019
24.02.2019
Oshkosh FMTV A2 Makes Debut at Ausa 2018, Multiple JLTVS Command the Floor
14.10.2018
Discuss