Saab to Provide Additional Deliveries for U.S. Army's Combat Vehicles
Category: Training And Simulators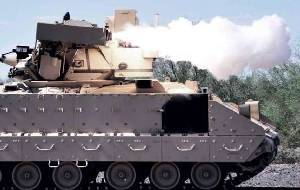 Defence and security company Saab has been awarded the fourth and fifth options of a multi-year contract for deliveries of laser-based training system for U.S. Army's armoured combat vehicles. The order value of USD 32 million was booked by Saab as order intake in December 2015.
The Combat Vehicle Tactical Engagement Simulation System (CVTESS) indefinite delivery/indefinite quantity (IDIQ) contract was signed with the U.S. Army in 2012. It consists of this order and further options that can be exercised over a time period of five years with a potential total order value of USD 90 million.
Since 2012, CVTESS has provided the U.S. Army with the next–generation of laser-based training systems for its armoured combat vehicles. The system supplies a highly accurate, laser-based simulation of the combat vehicle weapons used on all M-1 Abrams Main Battle Tank and the Bradley Fighting Vehicles (BFV) variants, including opposing forces vehicles.
"Saab's CVTESS is on the cutting edge of force-on-force training technology. With more than 3,000 vehicle systems fielded to the U.S. Army, we are proud to continue supplying our military with a proven solution for their training needs", said Cyndi Turner, General Manager of Saab Defense and Security USA's Training and Simulation division.
CVTESS is easy to install and maintain, reducing the cost and time of combat vehicle training. Its highly realistic combat scenarios and after-action reports provide soldiers with the experience and knowledge necessary to be safe and effective in the field.
Saab has delivered laser-based training systems to the U.S. Army for the Abrams tanks and BFVs since 1988.
Saab
15.01.2016

Share...




SAAB Receives Order For Upgrade Of German Army Vehicle Simulators
12.01.2018
SAAB Receives Order From KMW For Mobile Camouflage Systems
19.12.2017
Czech precision optical systems producer to support line-of-sight technology for BAE Systems' CV90
29.11.2017
SAAB Chosen As Sub-Contractor For The Ajax Virtual Crew Turret Trainer
14.10.2017
Saab Tech Electronics Division
Saab Training Systems Canada Limited
Saab Training Systems (UK) Ltd
Discuss