Casspir Eland Joins Denel's Impressive Vehicle Stable
Category: Defence Industry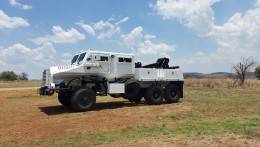 Denel has expanded the range of its recovery vehicles based on the well-known Casspir mine resistant system and is responding to keen interest shown by clients on the African continent.
The latest addition to the Mechem vehicle line-up is the Casspir Eland – a heavy duty recovery vehicle. The Eland is a 6X6 configuration based on the well-known Casspir NG2000 series – a vehicle that has gained a global reputation for protection, power, manoeuvrability and comfort for passengers and crew.
The Eland with its monocoque design is larger and heavier than the 4X4 wheel variant, the Casspir Gemsbok. Two of these recovery variants have recently been ordered by the Angolan Defence Force.
The General Manager of Mechem, Ashley Williams says there is considerable international interest in the Casspir series of vehicles and Denel recently concluded a long-term agreement to supply various mine-protected variants to an important international client.
Mechem is also busy with the production of the Casspir 6X6 Stallion – a recovery vehicle based on a truck chassis with a protected cab and the ability to perform heavy duty recovery duties. The Casspir Stallion is also available in 4X4 and 8X8 variants providing clients a range of recovery vehicles – from light to heavy duty – based on the same vehicle model.
Williams says a number of African countries are showing interest in the complete Casspir family of mine-protected vehicles. Mechem hosted delegations from three countries in December and demonstrated the full spectrum of Casspir variants.
The advantages of acquiring different variants of the same trusted vehicle are quite obvious. Prospective clients in Africa can use the Casspir variants in different conditions and applications and they are suitable for both military operations and peace support missions.
Denel is a trusted defence manufacturer with a long-standing reputation for quality, maintenance and after-sales service. The vehicles are designed in Africa keeping in mind the unique requirements of the continent in terms of geography and weather conditions.
The Casspir range is regarded as a force multiplier and Denel has stock in hand that can be sold and handed over to the client at very short notice.
Mechem also shipped a batch of 10 Casspir personnel carriers to a client in December 2015. Williams says these vehicles were equipped with special mine roller attachments to be used in the clearance of land mines and unexploded ordnance.
The long-term agreement with the client also includes the future supply of five Casspir Stallion recovery vehicles while a further order for five more vehicles is in the planning stage as well as orders for other special Casspir variants.
Denel
01.02.2016

Share...




Prominent presence in Poland for Denel
07.09.2017
More CASSPIRS Ready For Delivery To African Client
25.07.2017
Denel To Highlight Its Capabilities At Top Middle Eastern Defence Show
01.02.2017
First Batch Of Denel Vehicles Shipped To UAE Client
24.08.2016
LIW, a division of Denel (Pty) Ltd
Kentron (division of Denel (Pty) Ltd)
Somchem Division of Denel (Pty) Ltd
Swartklip - a division of Denel
Pretoria Metal Pressings a Division of Denel (Pty) Ltd. - PMP
Rheinmetall Denel Munition (Pty) Ltd - RDM
Casspir (Mine protected carrier)
Casspir Mk III (Mine protected carrier)
Casspir Mk IV (Mine protected carrier)
Casspir Mk VI Protector (Mine protected carrier)
Casspir NG 2000 (Mine protected carrier)
Discuss