Plasan Sasa Wins $M100 Contract to Supply US Marines
Category: Contracts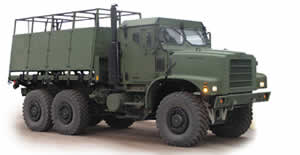 KIBBUTZ SASA, Israel -- Plasan Sasa, a leading developer and manufacturer of combat proven ballistic protection products, announced that it has won a contract with the US Department of Defense contract to supply an additional 1,000 MTVR protection for Oshkosh trucks.
Oshkosh selected Plasan exclusively for this $100 million project.
This contract is the next step in the US Marinesí plans to fully equip its Oshkosh Medium Tactical Vehicle Replacement (MTVR) fleet with Plasanís advanced Armor Protection Kit (APK). Full deployment is scheduled to be completed by year-end 2006.
This contract places Plasan among the small number of companies worldwide that work with the US Navy in the field of add-on armor for lightweight military vehicles and trucks. Plasan`s solution for both the armor protection itself and the design of the rear troop carrier complied with the highest technological demands stipulated by the US Navy. Engineered from composite materials, Plasanís battle-proven armor solution is tailored to meet the multiple challenges of todayís combat scenarios Ė traditional battlefields, urban warfare and low intensity conflicts. The armor was chosen for the high level of all-round protection it provides to both vehicle and crew against Improvised Explosive Devices, mines and other threats.
In addition, Plasanís highly cost-effective APK allows easy and swift assembly and disassembly by crews in the field, according to changing mission specifications. Its fully modular nature allows it to be easily transferred from one vehicle to another. Plasan`s Armor Protection Kit (APK) was chosen over those from competing contractors after extensive rigorous tests by the USMC, in order to ensure the troops have the most effective protection.
"This contract, as a direct subcontractor for Oshkosh, demonstrates the manufacturerís confidence in our ability to offer superior protection to patrol vehicles, trucks or other lightweight platforms against IEDs, landmines and various terrorist and insurgent threats. We have successfully shown that our solutions reduce truck vulnerability on the modern battlefield. The US Marines recognize that our battle-proven armor solutions meet the most demanding operational requirements,Ē said Plasanís CEO, Dan Ziv. Plasan Sasa is a preferred supplier to the Israeli Defense Forces and an approved supplier to Ministries of Defense around the world. The focus of its core business is the development, manufacturing and assembly of Add-On Armor Protection Kits for lightweight military tactical truck and wheeled vehicles, fixed and rotary wing aircraft, naval platforms and commercial vehicles.
Plasan Sasa
31.10.2005

Share...




Oshkosh Defense Receives Order for 248 Joint Light Tactical Vehicles
02.07.2020
Oshkosh Defense Receives $407.3 Million Order for Joint Light Tactical Vehicles
24.02.2020
Oshkosh Defense Exhibits JLTV Firepower at IDEX 2019
24.02.2019
Oshkosh FMTV A2 Makes Debut at Ausa 2018, Multiple JLTVS Command the Floor
14.10.2018
MTVR (Modernization of the vehicle)
Discuss