Tata Motors bags additional order for 619 nos. of 6 X 6 HIGH-MOBILITY VEHICLES, from Indian Army
Category: Contracts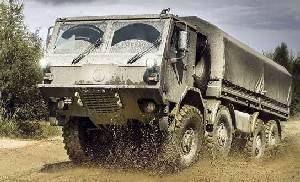 Tata Motors have signed a follow-on contract for the supply of an additional 619 units, of its high-mobility (HMV) 6X6 multi-axle truck, from the Indian Army. Being built with a material handling crane, the Tata 6X6 HMV is meant for the loading-unloading and transportation of ammunition pallets, spares and other operational equipment.
This is in conjunction, to an earlier order awarded to Tata Motors for 1239 units of its 6X6 High Mobility Vehicles, and is the single largest order awarded to an Indian private OEM (Original Equipment Manufacturers) in land systems by the Indian army, under the Indian Ministry of Defence DPP (Defence Procurement Procedure).
Developed indigenously, the Tata 6X6 high mobility all-terrain all-wheel drive vehicle, has demonstrated maximum performance in the most demanding conditions and is built on a capable platform for diverse tasks, utilizing Tata Motors state-of-the-art systems and aggregates. The vehicle has been designed to cope with extreme on or off-road loads and have gone through trials including deep water-fording, on cross country terrains and plains and put thru the VRDE's (Vehicle Research & Development Establishment) torture track.
Mr. Vernon Noronha, Vice President, Defence & Government Business, Tata Motors Limited said, "We at Tata Motors are extremely encouraged by the country's thrust towards 'indigenization', which not only helps strengthen the country's defence manufacturing base, but also emphasizes on cost effective maintenance, serviceability and upgradation of defence equipment. With this contract we are proud to have received an additional order for 619 units, of our indigenously developed Tata 6 X 6 high-mobility vehicle, having cleared rigorous trials and successfully competed against products from rival bidders, from top European and global defence companies, underlining the stringent requirements of the Indian army, and the global standards of our defence offerings. In line with the government's 'Make in India' initiative, we will continue to focus on further developing a comprehensive range of defence vehicles right here in India, including front line combat vehicles such as the FICV, to meet the evolving requirements of defence forces in India, and around the world."
The Tata 6X6 is designed for easy operability. The vehicle is easy to maintain, due to accessibility to its aggregates. The vehicles cabin is modular with HVAC (heating, ventilation, and air conditioning) and is fully-ready for up-armoring.
High ground clearance enables the Tata 6X6 to better negotiate gradients, sand dunes, off-road terrains, and trenches, with higher water & mud fording capabilities, whilst carrying designated military payloads. The vehicle is also fitted with a central tire inflation system (CTIS), allowing the driver to adjust the tyre pressure from his seat, for better traction on different surfaces, especially when carrying vital and heavy loads.
The vehicle is also capable of achieving sustained speeds of 40 kmph, on severe cross country terrains. The Self-Recovery Winch assists in extraction of the vehicle (including other vehicles in the convoy) during operations.
The Tata Motors 6X6 High-Mobility MAV can be customised for a wide range of applications such as –
MBRL (Multi Barrel Rocket Launcher)
MFU (Missile Firing Unit)
MSV (Missile Service Vehicle)
FSV (Field Service Vehicle)
SRSAM (Short Range Surface to Air Missile)
QRSAM (Quick Reaction Surface to Air Missile) vehicle
LLQRM (Low Level Quick Reaction Missile) vehicle
MRV (Medium Recovery Vehicle)
Tata
01.04.2016

Share...




Tata Motors signs MOU with Indonesia's PT Pindad
20.11.2016
Javelin Joint Venture signs Letter of Intent with Tata Power
01.09.2016
Tata Motors awarded contract for 1,239 vehicles of its high-mobility multi-axle vehicles by the Indian Army
15.07.2015
Izhevsk Electro Mechanical Plant KUPOL, JSC will present the missile systems Tor-M2E, Tor-M2K and Tor-M2KM in the International exhibition INDO DEFENCE EXPO & FORUM 2014
01.11.2014
Discuss